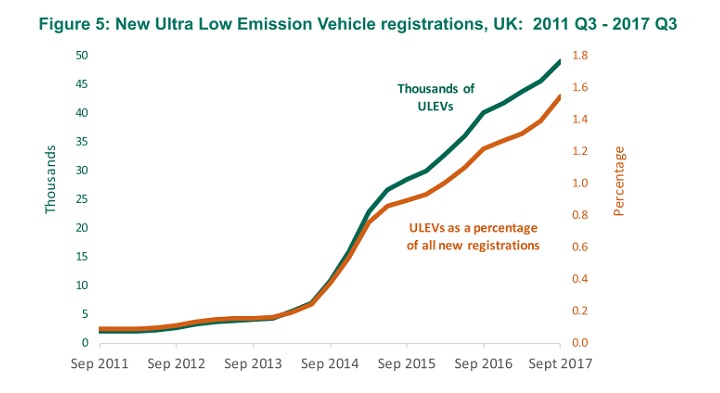 Quarterly figures show that the number of new ultra low emission vehicles (ULEVs) registered in the UK exceeded 14,000 for the first time between July and September 2017.
Figures published by the DfT on 13 December show that 14,600 new ULEVs were registered during Q3 – a 33% increase compared with the corresponding period in 2016.
49,108 new ULEVs were registered in the 12 months ending September 2017, a 22% year-on-year increase.
ULEVs represented 1.5% of all new registrations in the same period, compared to 1.2% in the previous 12 months, and 0.9% in the 12 months ending September 2015.
The DfT says most of the increase can be attributed to vehicles eligible for plug-in car and van grants, but also says the growth in ULEVs is being influenced by new models coming into the market and increasingly competitive pricing.
The rise in ULEVs comes against a backdrop of declining new vehicle sales. In total, 816,000 new vehicles were registered in the UK in Q3 2017 – down 8.6% on the same quarter in 2016.
---