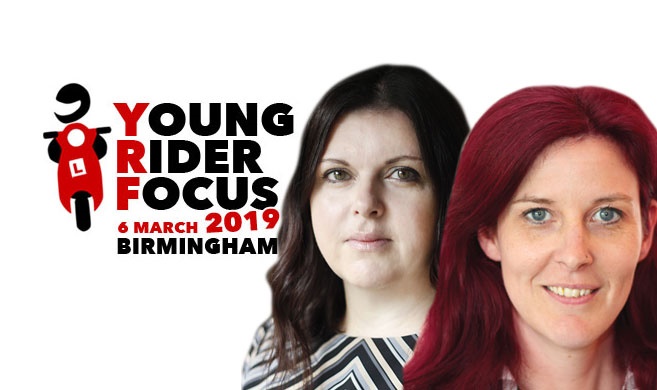 A presentation at the inaugural Young Rider Focus conference will showcase an 18-month project to understand how to reduce the risk of collisions and casualties among powered two wheeler riders.
Organised by Road Safety GB and FirstBike, Young Rider Focus will be held in Birmingham on 6 March 2019.
The event was conceived following a survey among road safety professionals which confirmed an appetite for a conference focusing on the key issues faced by 16-25 year-old P2W riders.
Eight presentations have been confirmed to date – including a joint delivery by Tanya Fosdick, head of research at Agilysis and Lorraine Willis, regional road safety coordinator at Highways England.
Tanya Fosdick is an experienced researcher who specialises in translating complex evidence into practice.
With more than a decade of experience in the road safety sector, especially in relation to young drivers and motorcyclists, Tanya seeks to bridge the gap between academia and practitioners to improve the quality of road safety interventions.
Lorraine Willis is currently the regional road safety coordinator at Highways England covering the East of England.
Lorraine's current role involves developing an incident and casualty reduction plan for the east region, detailing how Highways England's 2020 target for a 40% reduction in killed and seriously injured can be achieved.
This role also involves working with and supporting local road safety partnerships.
Their joint presentation will explain an 18-month programme of work, carried out by Highways England and road safety partnerships in the east of England, to understand how to reduce motorcycle risk.
As part of the programme, a review was undertaken of all of the motorcycle interventions in the east – examining their evidence base, the target audience compared to KSI figures, and evaluation results of schemes.
Young Rider Focus
Delegate registration for Young Rider Focus is now open – with tickets priced at £125 for Road Safety GB/Academy members, £150 for attendees from public sector, third sector, academia and ADIs, and £175 (all prices plus VAT) for all other attendees.
In addition, there is the option to purchase a joint ticket covering Young Rider Focus and Young Driver Focus 2019, which takes place at the RAC Club, Pall Mall, London on 1 May 2019.
Click here to register to attend or alternatively for more information contact Sally Bartrum (delegate registration) or Nick Rawlings (conference agenda) on 01379 650112.
For more information about sponsoring and/or exhibiting at the event contact either Richard Storrs on 08451 308 853 or Rachael Butler on 07974 186445.
---