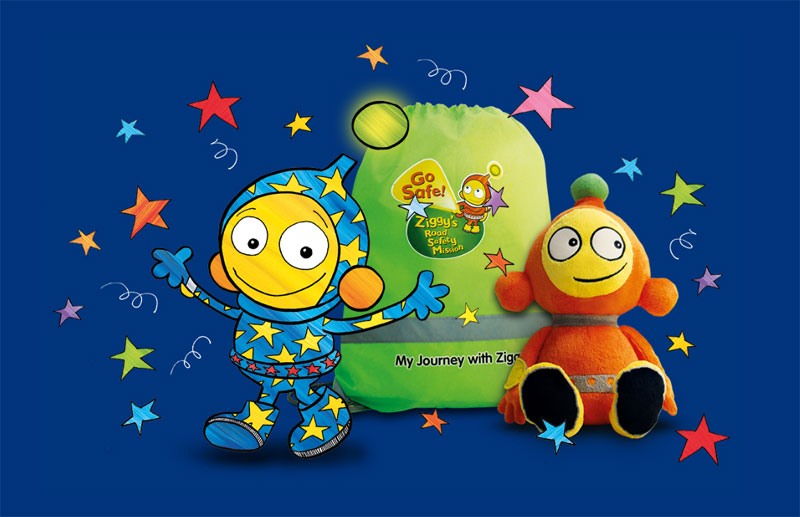 Following the revamp of the Road Safety Scotland (RSS) website, the popular My Journey With Ziggy pack has been relaunched to early learning and childcare centres and primary 1 teachers across Scotland.
The pack, which includes a Ziggy soft toy and journey diary contained in a bright reflective drawstring bag, has been developed to help practitioners, parents and carers 'bring road safety learning to life'. 
To obtain the pack, teachers and childcare practitioners first register on the Ziggy pages on the RSS website and are asked to conduct some simple road safety lessons with their children before taking them on a walk outside. 
Using the Ziggy's Big Day Out Guide, which is downloadable from the website, children can record aspects of their journey to help tell their story. They then upload their story to the website with photos or drawings from the day. Once the story is uploaded and approved, the My Journey With Ziggy pack is sent out.
Mairi Blair, from Road Safety Scotland, said: "The My Journey With Ziggy pack has proved popular with ELC centres and primary schools since it was launched in the 2016-17 school year.
"For 2017-18 we wanted to increase engagement opportunities for ELC centres and primary 1 classes, so we introduced a competition element to the activity: Ziggy's Big Competition.
"As well as going out for a walk, classes were also asked to submit a film or recording of the children doing the Ziggy song and dance. 
"Our research showed that the Ziggy's Big Competition activity did appear to encourage increased use of the website, in particular the resources for teachers. 
"This evaluation will be considered by RSS's Learning Advisory Group and will provide a steer on future engagement with teachers.
"In the meantime, the My Journey With Ziggy pack activity has been refreshed for the remainder of the school year and into the 2019-20 year."