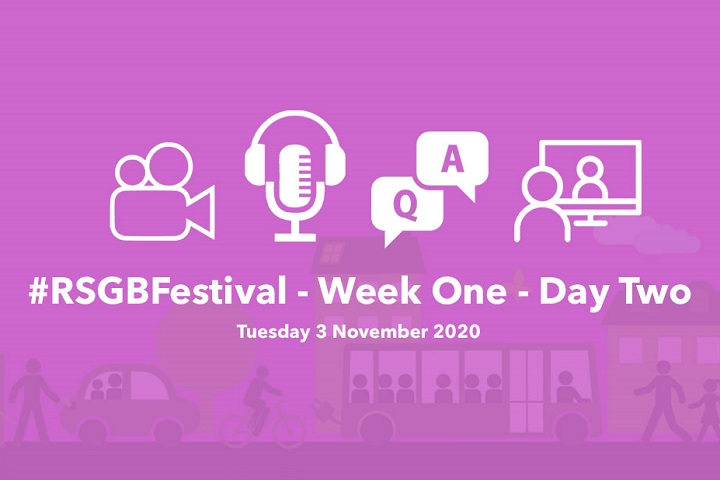 Day two of the Festival of Road Safety includes the first live discussion session of the month, focussing on cycling.
Organised by Road Safety GB, the Festival of Road Safety will see more than 40 pre-recorded and live sessions broadcast throughout November (2-27 Nov).
The Festival has received an enthusiastic reception from road safety professionals, with places at the live sessions and workshops quickly snapped up and now all (bar one) fully subscribed.
Day two in detail
After opening with a focus on young drivers and GDL, day two features a live session, titled: Cycling – how can we increase participation while ensuring/improving safety?
The session gets underway at 2pm and is chaired by Nick Rawlings, from the Road Safety GB web and comms team. The expert panellists are:
Emily Cherry, executive director, Bikeability Trust
Duncan Dollimore, head of campaigns, Cycling UK
Sonya Hurt, road safety manager, Derbyshire County Council
The session is fully subscribed with an audience of 100 pre-registered participants, but will be recorded and published on the website shortly afterwards to a wider audience.
The opening presentation on day two will be delivered by James Luckhurst, founder of Project EDWARD.
James is joined by Simon Turner from Driving for Better Business to review the recently held 2020 edition of Project EDWARD and outline early plans and ideas for 2021.
The Project EDWARD presentation will be available to watch on the Festival website from 10am today.
Looking ahead to day three
Wednesday 4 November kicks off at 10am with a fringe presentation focusing on the use of data to identify and promote active travel solutions – delivered by Steve Ferris, programme manager, Agilysis and Safer Roads Berkshire.
This is followed at 2pm by the first workshop of the Festival.
Facilitated by Alan Kennedy, executive director of Road Safety GB, the workshop will delve into a new course developed by the Road Safety GB Academy – titled 'Introduction to road safety delivery'.
As well as an overview of the course, Alan will also deliver a session around the 'conscious and sub conscious mind'.
This workshop, along with the three others being held later in the month, is fully subscribed.
The full four-week programme is published on the Festival website. For more information contact either Edward Seaman or Nick Rawlings by email, or alternatively on 01379 650112.
---