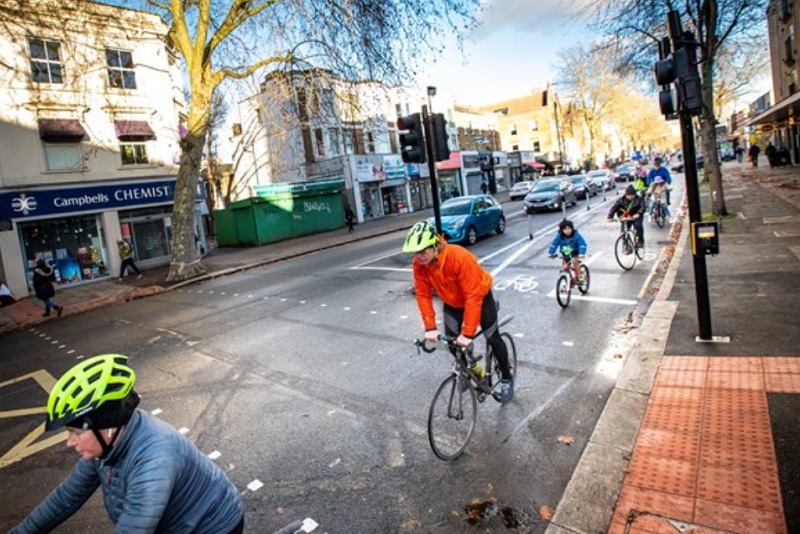 TfL and Hounslow Council have published data which suggests a trial cycle lane in Chiswick has led to a 'significant increase' in the number of people cycling, while also reducing road danger and improving air quality.
In December 2020, Hounslow Council introduced trial changes in Chiswick – including a temporary protected cycle lane along Chiswick High Road. 
Data from TfL and Hounslow Council shows that cycling along the trial route increased by 72% on weekdays between February and April 2021. In total, up to 2,700 people a day are cycling along the route.
TfL says cycling is now a major form of transport for people in the area and around 20% of the 'vehicles' using the road during the day are bikes.      
Provisional data from the Metropolitan Police also suggests that it is now safer to cycle along Chiswick High Road than before the cycle lanes were introduced. 
In the 12 months before, there were eight collisions involving a cyclist, while in the six months since, there have been two such collisions. 
Meanwhile, data from an air quality monitoring station shows levels of nitrogen dioxide, nitricoxide and particulate matter that are consistently lower than before the cycle lane was installed.
Will Norman, London's walking and cycling commissioner, said: "This data shows the huge positive impact cycle lanes can have not only in enabling more people to cycle, but also in reducing road danger and improving air quality. 
"Chiswick High Road has been transformed by the trial lane, with cycling on weekdays up by almost three quarters and bikes now making up a fifth of 'vehicles' using the road during the day. 
"We will continue to work with Hounslow Council and boroughs across London to do all we can to ensure a greener and cleaner recovery from the pandemic."
Alexandra Batey, TfL's director of investment delivery planning, said: "Ensuring that people in London feel safe when cycling is vital and we know that providing space for people to do so can make a real difference in boosting the numbers of people getting around by bike. 
"This important new evidence shows that reducing car-dominance on roads such as Chiswick High Road can enable thousands of safer cycle journeys each week, including by children, families and others who have previously been put off by busy and intimidating roads. 
"We'll continue to work closely with local councils to ensure that London's roads play a role in a green, healthy and sustainable recovery from coronavirus."
---