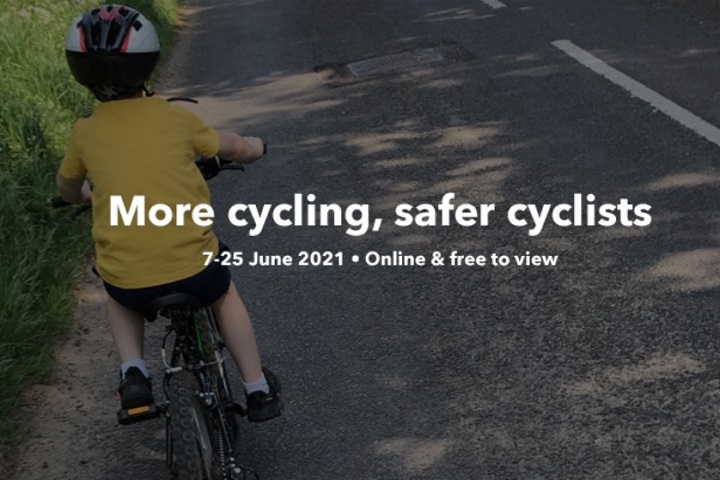 Preparations for Road Safety GB's upcoming online cycle safety event are starting to gather pace – with no fewer than 10 sessions confirmed on the agenda.
The three-week event, titled 'More cycling, safer cyclists: how can we make it safer for more people to cycle, more often?', will be aired free-to-all during June 2021, commencing Monday 7 June.
The programme will comprise a mix of pre-recorded and live content including video presentations, podcasts, workshops and discussions.
The agenda is currently under development and once complete, will comprise approximately 15 sessions. Organisers hope to be in a position to publish a timed agenda within the next week.
Among the latest sessions to be added to the agenda is a presentation from Mel Langdown, strategic governance and commissioning manager at the Staffordshire Safer Roads Partnership.
Mel's presentation will provide an overview of the partnership's current campaign promoting cycle safety information to both cyclists and drivers.
This will include how collision analysis was used to shape the Look Out campaign and how messaging has been designed and delivered.
Also added to the agenda is Emily Cherry, executive director of the The Bikeability Trust.
The Trust is the national charity for Bikeability, the UK government's cycle education programme.
Bikeability is a progressive programme in which trainees first master cycle handling skills in traffic-free environments (Level 1), then develop the skills and confidence to cycle on local roads and simple junctions (Level 2) and busier, multi-lane roads and complex junctions (Level 3).
The title of Emily's presentation will be confirmed in due course.
Call for papers
The agenda is still under development and Road Safety GB is particularly interested to hear from road safety and active travel practitioners who have implemented schemes in their local area, that they would be willing to showcase to fellow professionals.
Anyone interested in contributing should email Edward Seaman, who heads up the organising committee, with a title and short summary of their topic or initiative.
Email alerts
Click here to sign-up for regular email alerts in the run up to and during the event.
---