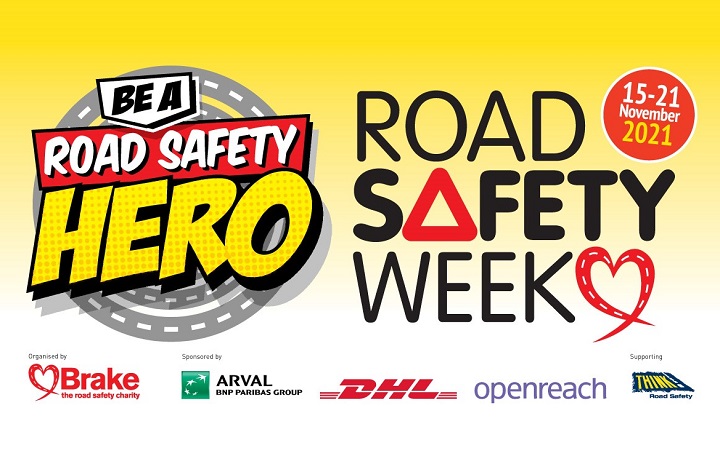 Road Safety Week has got underway with a pledge from transport secretary Grant Shapps to "continue to work tirelessly" to build upon the drop in casualties seen during the pandemic.
Analysis of Government statistics, carried out by Road Safety Week organisers Brake, indicates about 300 deaths and more than 6,000 serious injuries were prevented due to lighter traffic in 2020, compared with 2019.
As traffic levels rise again, Road Safety Week (15-21 Nov) is celebrating the work of road safety 'heroes' across the country who are working to turn the one-year drop into a downward trend.
This includes those behind the Government plans for a new road safety strategy, local authorities building cycle paths, companies working to ensure they use vehicles safely and communities working for changes where they live, such as 20mph speed limits.
This year's campaign also celebrates the invaluable efforts of the emergency services, including those who police the roads and save lives, at the roadside and in hospitals.
Brake is calling for individuals, communities and organisations to share stories of their own road safety heroes – through social media, in schools, in company team meetings or special events.
Jason Wakeford, head of campaigns at Brake, said: "Reductions in the number of people killed or seriously injured on the roads – due to lockdown restrictions last year – are to be welcomed but should also inspire more action to make roads safer as traffic returns to pre-pandemic levels.
"Road Safety Week is the UK's biggest annual road safety campaign and is a great opportunity to speak up for road safety. This year everyone can acknowledge and celebrate the heroic efforts of people working to save lives on roads across the country – and recognise that we can all be road safety heroes by using roads safely and taking actions for road safety in our families, schools, communities and where we work.
"We would urge everyone to visit the Road Safety Week website for loads of ways to take part in the campaign all this week."
Grant Shapps, transport secretary, said: "While the UK has some of the safest roads in the world, we're always working to make them even safer – and we very much welcome the drop in casualties during the pandemic.
"We will continue to work tirelessly to help see further reductions, including through our THINK! campaign, which tackles behaviours that can lead to serious road incidents and our ongoing review of roads policing."
---