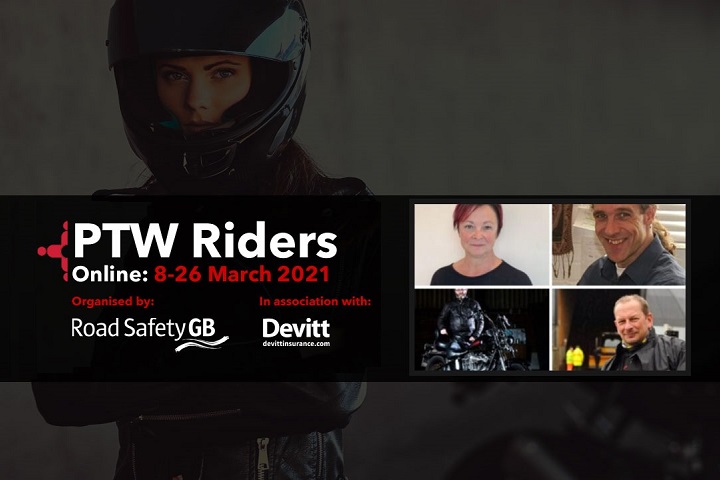 Day four of Road Safety GB's online PTW event includes a live Question Time session and the launch of a new social media campaign highlighting the most common causes of collisions involving motorcyclists.
The 3D Know the Dangers campaign, devised by the East Midlands-based Shiny Side Up Partnership (SSUP), comprises seven short films – and one longer film – which are being shared on the SSUP social media platforms
The films deliver important safety messages, applicable to both drivers and riders. Versions of the films without the safety messages have also been produced for educational and training purposes – along with a series of infographics.
The campaign has been funded by the Road Safety Trust.
Heidy Duffy MBE, SSUP facilitator, heads up the presentation – which will be published on the PTW event website at 10am today (Thurs 11 March).
Heidi Duffy said: "Being a motorcyclist gives you the freedom to enjoy your machine, passing the traffic queues and getting to your destination quickly and cheaply compared with car usage.
"However, sadly bikers across the country – including the East Midlands – figure too highly among crash statistics.
"This social media campaign aims to highlight to drivers and bikers the most common causes of collisions for motorcyclists – in turn helping to improve their safety on the roads."
Day four also features a live Question Time session, which gets underway at 11am.
The panellists for the session, hosted by Nick Rawlings, are:
Karen Cole, director of safety and training, MCIA
Dr Cris Burgess, senior lecturer in psychology, University of Exeter
Iain Temperton, Traject Road Safety Specialist
Colin Brown, director of campaigns and political engagement, the Motorcycle Action Group
There is still a small number of places available – click here to register (prior to 10.45am).
Catch-up on the content so far
The three-week event, titled 'PTW Riders: improving safety and reducing collisions and casualties', is sponsored by Devitt Insurance and got underway on 8 March.
The programme comprises 20 pre-recorded presentations and podcasts which are being published at 10am each working day over the next three weeks – as well as a live workshop and Question Time session.
All of the content is available free-of-charge – and can be accessed via the event website.
More information
For more information about the PTW Riders' online event visit the event website or contact Edward Seaman by email or on 01379 650112.
---