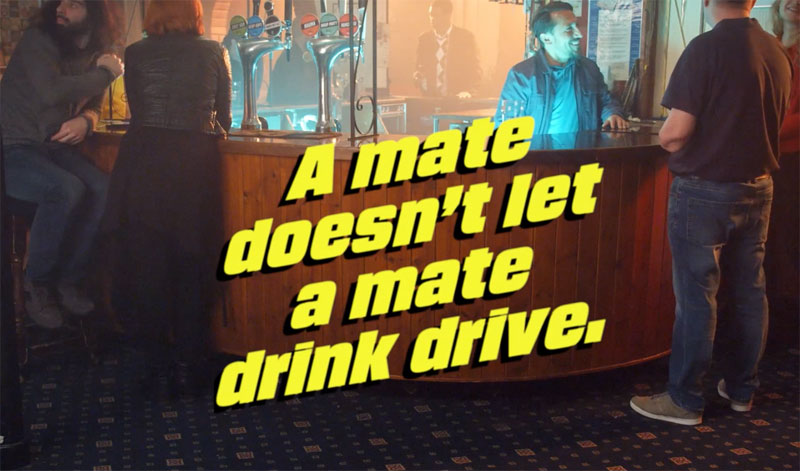 THINK! is bringing back its 'Pint Block' campaign ahead of the festive period, to help spread the message among young male drivers that 'a mate doesn't let a mate drink drive'.
Statistics show 17 to 24-year-old male drivers are four times more likely to be killed or seriously injured than male drivers aged 25 years and over, making them an extremely high-risk group.
With festive season socialising and traffic at pre-pandemic levels, THINK! says there are more opportunities for young male drivers to drink drive.
That's why it is re-launching Pint Block, which aims to give young men the confidence to step up and intervene to stop their mates drinking before driving.
New for this phase of the campaign is 'Mates for Life', a short film which goes beyond the moment of a Pint Block to show a young man encouraging his friend not to drink and drive by reminding him of the lifelong friendship and adventures they're yet to have.
THINK! will promote this new creative with paid spend across social media and online video.
Existing creative assets are available to download from the THINK! campaigns page – including three films showing mates intervening with the 'Nunchaku', 'Wrap Party', and 'Volcano' Pint Blocks.
There are also four animations depicting colourful and creative Pint Blocks: 'Crazy Golf', 'Scarecrow', 'Mexican Wave', and 'Levitate'.
To help spread the campaign message, THINK! has partnered with drinks producer Diageo.
The Pint Block paid media will drive the target audience to Diageo's new 'Wrong Side of the Road' tool, which provides an interactive online experience where people can learn the consequences of drink driving by asking questions to real drink drivers.
THINK! has also co-created festive Pint Block-style content which will go out on Diageo's branded social media channels.
---