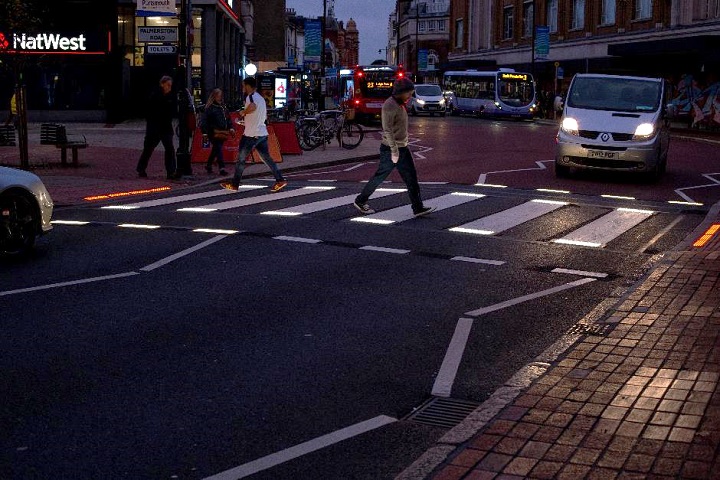 Portsmouth City Council is trialling a new luminous road marking solution designed to enhance visibility for pedestrians and cyclists when crossing the road.
The Flowell crosswalks and cycle crossings technology has been installed on the junction of Clarendon Road and Palmerston Road by civil engineering and transport infrastructure specialists, Colas.
The new crossing lights up when triggered by sensors, in an effort to enhance visibility for users, make the space easier to read by clearly defining areas, facilitate mobility, and help improve the way people use public space.
Colas says it has also been designed to ensure better compliance with traffic regulations and encourage drivers to behave more calmly at busy intersections.
Flowell can also be adapted to give priority to certain vehicles during specific time times of day or allocate space for a dedicated use such as temporary outdoor dining space for restaurants.
The site in Portsmouth will be monitored to determine its impact on behaviour and help determine how it could improve road infrastructure in the UK.
Cllr Lynne Stagg, Portsmouth City Council's cabinet member for traffic and transportation, said: "We're always looking for new ways to improve road safety and I'm delighted we're the first place in the UK to use this innovative new technology.
"We chose this crossing because it's very busy particularly at night with all the bars and restaurants, and we want to make the crossing more visible and encourage more people to cross there safely."
Flowell, which has already been trialled by Colas in France, is made up of panels consisting of LEDs encapsulated in a multilayer substrate which are connected to the electrical network.
They can be glued on or embedded into pavement, which preserves the surface's initial grip and skid resistance.
Ian Gibson, director of asset contracting at Colas, added: "We are delighted to have installed the UK's first Flowell crossing in Portsmouth… and we look forward to sharing the results of this trial with the industry."
---