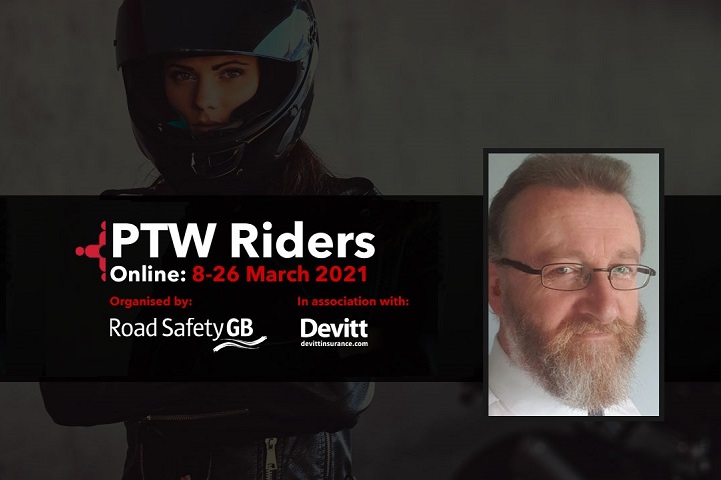 The third day of Road Safety GB's online PTW event features a presentation from Colin Brown, the Motorcycle Action Group's director of campaigns and political engagement.
Colin Brown has been riding motorcycles since the late 1980s, has taken all the advanced training available and been immersed in improving the safety of motorcycling for many years.
Describing himself as an observer and critic rather than a practitioner of road safety, Colin strives to bring a creative approach to the difficult questions.
In his presentation – published on the PTW event website at 10am today (Weds 10 March) – Colin explains why he thinks there is "an awful lot of room to rethink how we deal with motorcycle safety".
He touches on a variety of issues, including the impact of Covid-19, behaviour and competency, and tribalism – setting out a number of ways to "do things better when it comes to road safety".
This includes no longer applying the vulnerable label to road users, instead understanding that casualties are failures of the system – not the user.
He also calls for road safety messages to be delivered simultaneously to all road users – instead of "trying to assign behaviours to certain specific transport modes".
Question Time takes place tomorrow
Colin Brown is also one of the four panellists taking part in tomorrow's Question Time session (11am) – for which there are limited places still available (free of charge).
The other panellists for the session, hosted by Nick Rawlings, are:
Karen Cole, director of safety and training, MCIA
Dr Cris Burgess, senior lecturer in psychology, University of Exeter
Iain Temperton, Traject Road Safety Specialist
The session takes place on Zoom and will last approximately one hour.
Catch-up on the content so far
The three-week event, titled 'PTW Riders: improving safety and reducing collisions and casualties', is sponsored by Devitt Insurance and got underway on 8 March.
The programme comprises 20 pre-recorded presentations and podcasts which are being published at 10am each working day over the next three weeks – as well as a live workshop and a Question Time session.
All of the content is available free-of-charge – and can be accessed via the event website.
More information
For more information about the PTW Riders' online event visit the event website or contact Edward Seaman by email or on 01379 650112.
---