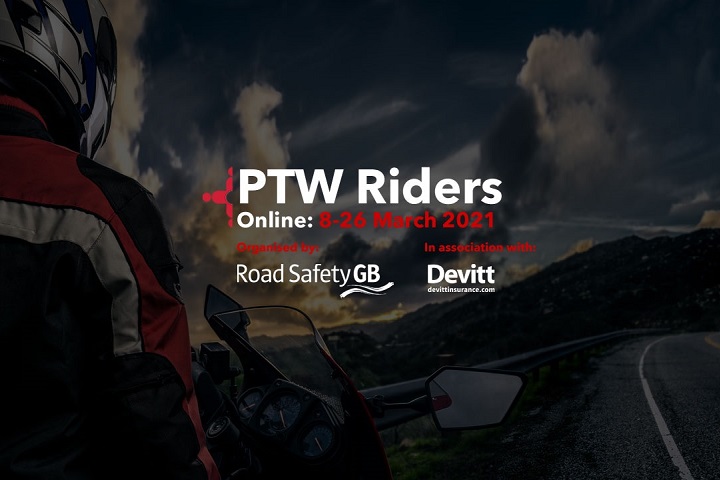 Registration is now open for a live workshop – being held as part of Road Safety GB's online PTW Riders' event – and Devitt Insurance has been unveiled as the event's headline sponsor.
The online event, titled 'PTW Riders: improving safety and reducing collisions and casualties', will be aired free-to-all during March 2021, commencing Monday 8 March.
The programme comprises 20 pre-recorded presentations and podcasts – as well as a live workshop, hosted by Saul Jeavons, director of The Transafe Network.
The free to attend workshop takes place at 2pm on Wednesday 24 March, and will run for approximately one hour.
Intriguingly titled 'How to hit a motorcyclist', the workshop will explore why using STATS19 data to target motorcyclists for education, training and publicity isn't particularly effective – and how MOSAIC demographic information only tells a tiny part of the story about this target audience group.
The workshop is limited to around 20 participants, with places allocated on a first-come-first-served basis. Click here to register.
Welcome to the headline sponsor
Road Safety GB is delighted to welcome Devitt Insurance Services as the headline sponsor of the online PTW event.
Devitt Insurance Services is the UK's largest privately-owned motorcycle insurance specialist. It looks after the insurance interests of more than 120,000 customers and works with some of the UK's leading underwriters and brands.
Tom Warsop, head of marketing at Devitt Insurance Services, said: "We're proud to be supporting Road Safety GB's PTW rider event.
"Rider safety is a priority for everyone involved with PTWs, so bringing the industry together to work on making the roads a safer place for riders is something we were keen to be involved with."
Question Time – places still available
Finally, there are still places available for the event's live Question Time session, being held at 11.00am on Thursday 11 March.
Click here for more details about the panellists and/or to book to participate in the session.
For more information about the PTW Riders online event contact Edward Seaman by email or on 01379 650112.
Alternatively, click here to receive regular email alerts in the run up to and during the event.
---