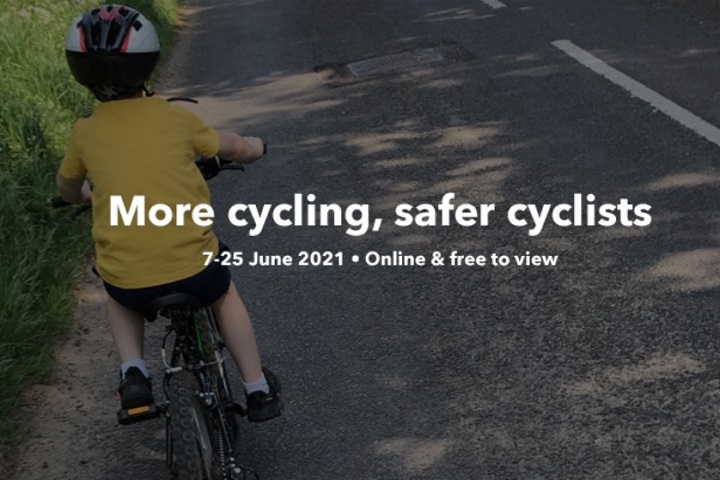 The agenda for Road Safety GB's upcoming online cycling event is starting to take shape – but more road safety and active travel professionals are encouraged to come forward to share their expertise.
The three-week event, titled 'More cycling, safer cyclists: how can we make it safe for more people to cycle, more often?', will be aired free-to-all during June 2021, commencing Monday 7 June.
It will follow a similar format to the Festival of Road Safety held during November 2020 – and the more recent PTW Riders' event which took place last month.
The programme will comprise a mix of pre-recorded and live content including video presentations, podcasts, workshops and discussions.
The agenda is currently under development and once complete, will comprise approximately 15 sessions.
The first three participants have been announced, including Sally Lines OBE, CEO, Road Safety Trust.
Recently, the Road Safety Trust organised an International Roundtable to influence the cycle helmet safety testing regime in the EU, so that safety standards are improved to include rotational impacts. The secondary objective was to work towards a harmonised rating scheme for consumers at the point of sale.
Sally's presentation will provide an overview of this project, including key outputs from the Roundtable and the next steps.
Monica Olyslagers, global innovation manager and cities specialist with iRAP, will discuss a Road Safety Foundation project which aims to improve Safer Roads Investment Plans (SRIPs) generated by the iRAP approach.
The project seeks to ensure the latest thinking and innovation for safety measures for vulnerable road users in urban environments, including cyclists, are fully embedded within SRIPs.
Also on the agenda is Nick Chamberlin, policy manager at British Cycling. The subject of Nick's presentation will be confirmed in due course.
Call for papers
The agenda is still under development and Road Safety GB is particularly interested to hear from road safety and active travel practitioners who have implemented schemes in their local area, that they would be willing to showcase to fellow professionals.
Anyone interested in contributing should email Edward Seaman, who heads up the organising committee, with a title and short summary of their topic or initiative.
---