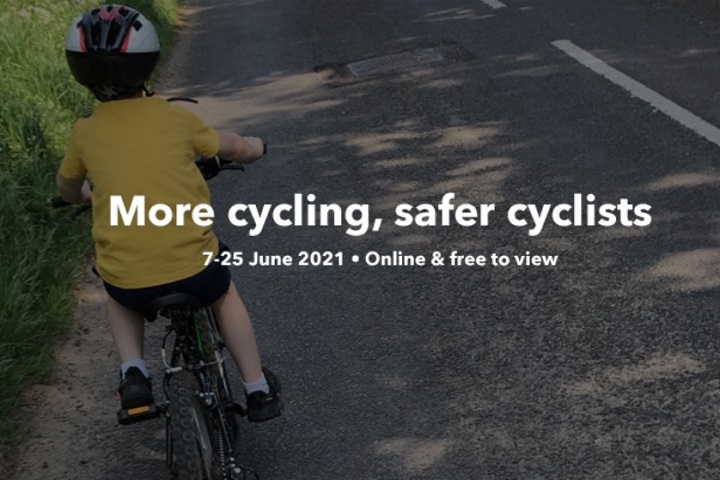 A new online event, organised by Road Safety GB, will provide advice, suggestions and ideas to help road safety and active travel professionals build on the modal shift towards cycling that has arisen as a result of Covid-19.
The event, titled 'More cycling, safer cyclists: how can we make it safe for more people to cycle, more often?', will be aired free-to-all during June 2021, commencing Monday 7 June.
It will follow a similar format to the Festival of Road Safety held during November 2020 – and the more recent PTW Riders' event which took place last month.
The programme will comprise a mix of pre-recorded and live content including video presentations, podcasts, workshops and discussions.
The agenda is currently under development, and Road Safety GB is inviting contributions from academia, road safety and active travel professionals, and stakeholders in the cycling sector.
British Cycling, the Road Safety Trust and the Road Safety Foundation have already confirmed their participation in the event.
Road Safety GB is particularly interested to hear from road safety and active travel practitioners who have implemented schemes in their local area, that they would be willing to showcase to fellow professionals.
Anyone interested in contributing should email Edward Seaman, who heads up the organising committee, with a title and short summary of their topic or initiative.
Content will be added to the event website as it is confirmed, with the full programme likely be in place by early May, giving details of when the various presentations and sessions will be published.
Edward Seaman said: "While there are no official statistics available for 2020 yet, it is universally accepted that the Covid-19 pandemic has had a substantial and potentially sustainable impact on active travel, including cycling.
"The public health benefits associated with getting more people to cycle for short journeys, and for recreational purposes, are well documented.
"However, cyclists are correctly classified as 'vulnerable road users', and invariably come off worst if involved in a collision with a motorised vehicle.
"The challenge now for road safety and active travel professionals is to build on the modal shift that has arisen as a result of COVID-19, and encourage people to keep cycling and by doing so achieve all the public health benefits that will accrue.
"This online event will provide advice, suggestions and ideas to help deliver this objective."
---