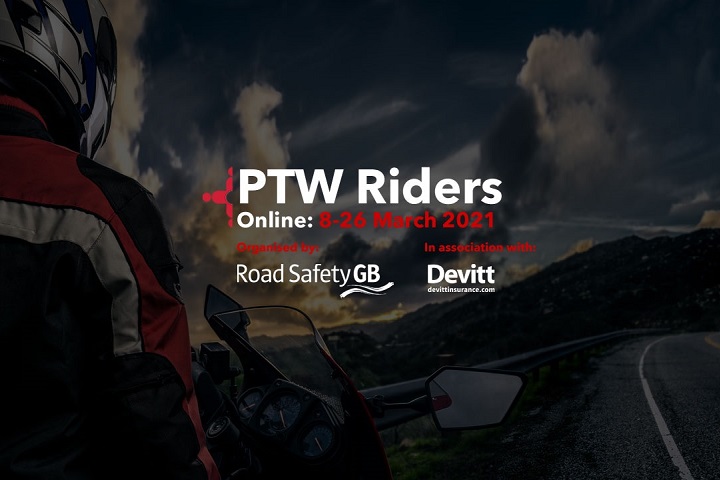 The virtual stage is set for Road Safety GB's online PTW Riders' event, with a Question Time session among the highlights of the first week.
The three-week event, titled 'PTW Riders: improving safety and reducing collisions and casualties', is sponsored by Devitt Insurance and gets underway today (Mon 8 March).
The programme comprises 20 pre-recorded presentations and podcasts which are being published at 10am each working day over the next three weeks – as well as a live workshop and the Question Time session.
All of the content is available free-of-charge, but registration is required for the two live events. Click here to view the full agenda.
Week one at a glance
The event kicks off today with a double header, including a presentation from Alex Stedmon (founder of Open Road Simulation).
Professor Stedmon will unveil the findings of a unique research programme in which a series of innovative road markings were trialled in Scotland in order to 'prime' rider behaviour on approach to demanding bends.
At the same time, a new edition of the RSGB Talk podcast discussing Motorcycle Roadcraft – the Police Rider's Handbook – will also be released.
Hosted by Nick Rawlings, the podcast features Lisa Daniels and Dan Whittle from the Stationary Office (TSO); and inspector Colin Reid from Police Scotland.
The Question Time session is on Thursday 11 March (11.00am). The panellists for the session are:
Karen Cole, director of safety and training, MCIA
Dr Cris Burgess, senior lecturer in psychology, University of Exeter
Colin Brown, director of campaigns and political engagement, MAG
Iain Temperton, Traject Road Safety Specialist
Click here to register to join the audience for this session (FOC).
New on the agenda
A number of new presentations have been added to the agenda for weeks two and three.
These include a presentation by Kevin Williams from Survival Skills Rider Training (19 March).
In the presentation, titled The Science Of Being Seen (SOBS), Kevin will discuss how to proactively prevent 'sorry mate I didn't see you' (SMIDSY) collisions between drivers and motorcyclists.
Meanwhile, on 25 March Peter Riley from Airvest will deliver a presentation titled An industry which keeps doing the same things …..will get the same results.
Peter will explain the important role that airbags can play in reducing motorcycle KSIs.
More information
For more information about the PTW Riders' online event visit the event website or contact Edward Seaman by email or on 01379 650112.
---