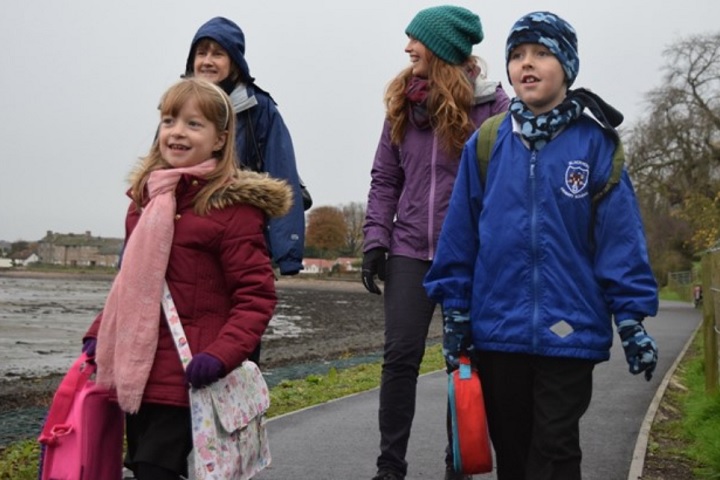 The percentage of children travelling actively to school in Scotland – either by walking, cycling, scootering or skating – rose to a 10-year high in 2020, according to new data.
The Hands Up Scotland Survey was carried out by Sustrans Scotland in partnership with all 32 Scottish local authorities. Responses were received from more than 400,000 school pupils and nearly 33,000 nursery children.
It found that 51.2% of school pupils normally got to school and back actively. This represents a 3.4% increase from 2019 (47.8%) and is the highest level of active travel in the past ten years. 
This has been fuelled by an increase in walking, which has grown by 3.8% from 41% in 2019 to 44.8% in 2020.
Conversely, the percentage of children being driven to school by car declined for the first time in four years, reducing by 1% to 22.8%
The figure had been on an increasing trend since 2013, reaching 23.8% in 2019.
Bus use also continues to decline, from 16% in 2019 to 14.1% in 2020 – the lowest recorded level of the past 10 years.
John Lauder, deputy CEO, Sustrans and executive director Sustrans Scotland, said: "It's hugely encouraging to see that active travel to school has reached its highest level of the last decade.
"It is doubly remarkable considering the previous year showed the highest level of children being driven to school.
"2020 was a highly unusual year, with many parents still working from home or furloughed when schools went back in mid-August. 
"We are all aware that the appetite for walking and cycling increased massively during the pandemic. This was carried over into changes to the school run. 
"Given the decrease in public transport use, it's remarkable to see that numbers being driven to school have gone down.
"But anecdotally, it's possible that changes to working patterns and home working for some parents mean that more have been able to walk or cycle with children to school."
---