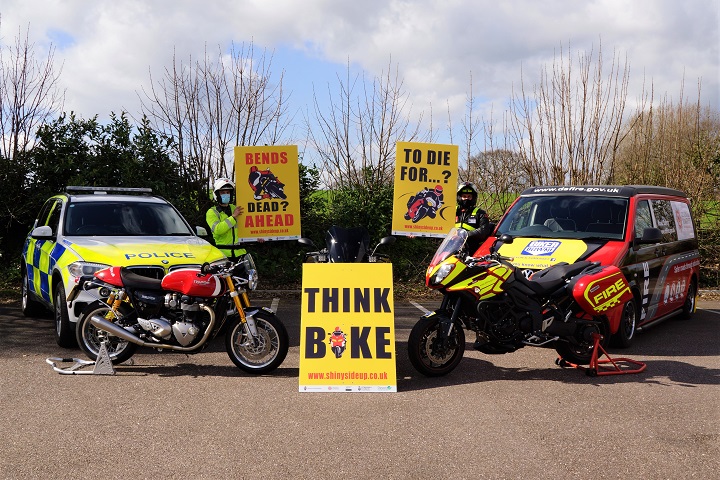 Big, bold and bright yellow information signs are being placed along high risk routes in Devon, Cornwall and Somerset in a bid to reduce motorcycle KSIs.
Originally devised by the East Midlands-based Shiny Side Up Partnership (SSUP), the signs reflect some of the main dangers on routes used regularly by riders.
This includes crashes on rural roads where bends and open country can tempt bikers to open the throttle just a bit too far.
Their success in spreading the message to bikers has prompted other counties and areas across the UK to adopt their usage.
The latest to do so is the south west, thanks to partnership working between a number of authorities, including Devon & Cornwall Police, Devon & Somerset Fire & Rescue Service and Vision Zero South West.
They selected three designs, which have been placed along known high risk routes and near to previous KSI sites. 
The plan is to move them around during the spring and summer, to reach as many riders as possible.
The SSUP aims to reduce the number of fatal and serious casualties suffered by bikers across Derbyshire, Leicestershire and Nottinghamshire – whether they are riding for leisure or for commuting.
Last month, the SSUP launched the 3D Know the Dangers social media campaign highlighting the most common causes of collisions involving motorcyclists.
The campaign comprises eight short films, which deliver important safety messages, applicable to both drivers and riders.
---