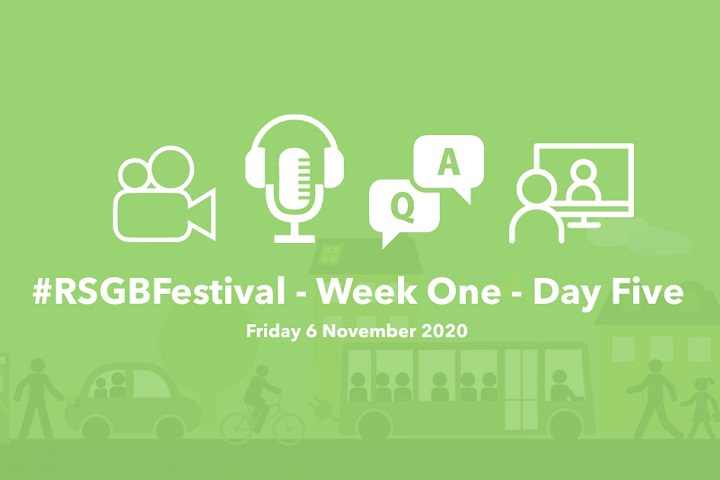 As the Festival of Road Safety reaches the end of week one, attention turns to motorcycling – with three fringe presentations and a special edition of the RSGB Talk podcast.
Organised by Road Safety GB, the Festival of Road Safety will see more than 40 pre-recorded and live sessions broadcast throughout November (2-27 Nov).
The first week has proven popular, with more than 1,000 road safety professionals visiting the Festival's programme page.
Today at the Festival
Friday 6 November is dubbed 'Motorcycle Friday' – for good reason.
At 10am, the first of four RSGB Talk podcasts which have been specially produced for the Festival will be broadcast, titled 'Motorcycles – the forgotten mode of transport?'.
The podcast, co-hosted by Nick Rawlings and Edward Seaman, features Colin Brown, director of campaigns and political engagement at the Motorcycle Action Group (MAG).
This will be followed at 2pm by a triple header of Fringe presentations:
Changing motorcyclists' behaviour: Designing and trialing new road markings to help riders approaching bends; professor Alex Stedmon, Science Witness Ltd
The New Kid on the Block!; Heidi Duffy MBE, Facilitator, National Young Rider Forum
A close shave with Dave: promoting PPE and other safety initiatives for young riders; South Yorkshire Safer Roads Partnership
You can read more about all of these presentations on the Festival website – scroll down to Friday 6 November
Looking ahead to week two
Week two will kick off at 10am on Monday (9 Nov) with a keynote presentation from Elizabeth Box, head of research at the RAC Foundation.
Elizabeth will explain the Pre-driver Theatre & Workshop Education Research (PdTWER) programme – providing the interim findings from the review of current practice in the UK.
The week's second keynote presentation will be delivered on Thursday (10am) by Philippa Young, the incoming chair of Road Safety GB.
Meanwhile, week two's live session is titled 'The School Run – keeping pupils & parents safe while encouraging them to walk and cycle more often'.
This takes place on Tuesday (2pm), with three expert panellists: Carla Leowe, road safety officer, Westminster Council; Dr Adrian Davis, professor of transport and health, Edinburgh Napier University; and Jennifer Wiles, regional director (north), Living Streets.
Festival catch-up
All of the content released so far this week is available to watch on the Festival website.
This includes Tuesday's live discussion session on cycling and Dr Neale Kinnear's opening keynote presentation on young drivers and GDL.
The full four-week programme is published on the Festival website. For more information contact either Edward Seaman or Nick Rawlings by email, or alternatively on 01379 650112.
---