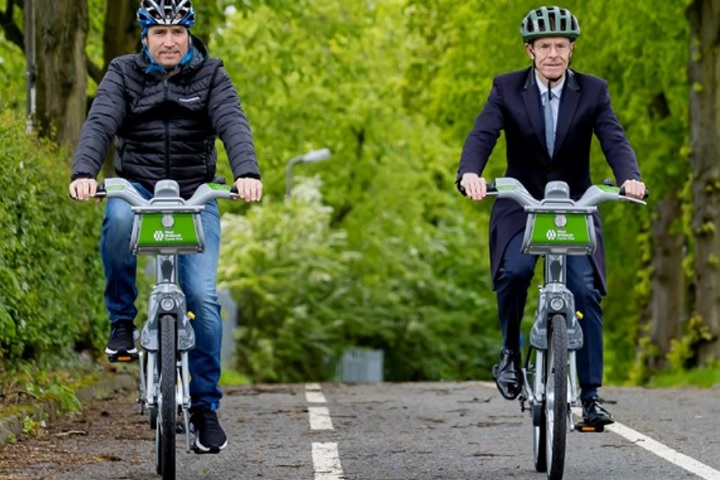 Figures show people in Birmingham are taking almost 500 rides a day on the city's newly-launched hire bikes.
The West Midlands Cycle Hire scheme, managed by Transport for West Midlands (TfWM), arrived in central Birmingham on 24 May – with more than 300 bikes docked in 43 locations.
In the first 14 days, 6,926 journeys were taken with users covering a combined distance of more than 23,000 kilometres.
Daily rides peaked at 714 on Saturday 5 June.
Andy Street, mayor of the West Midlands, said: "West Midlands Cycle Hire has hit the ground running in Birmingham.
"That's people getting out and about having fun while travelling in a sustainable and healthy way. 
"As well as enjoying the sunny weather and the region's parks and open spaces, I am delighted to see that a growing number of people are using the bikes as part of a commute across our town and city centres.
"We are so far exceeding our early expectations and if the trend continues, we will be looking to grow the scheme with more docks, more bikes and more locations."
TfWM, which is part of the West Midlands Combined Authority (WMCA), has now launched cycle hire in seven locations with almost 1,000 cycles available for hire in Birmingham, Coventry, Solihull, Stourbridge, Sutton Coldfield, Walsall and Wolverhampton.
Sandwell is due to join the scheme later this month and a further 35 docking stations are due to be installed in central Birmingham in July.
Latest figures show that across the region more than 22,000 users have covered almost 150,000km on the new bikes.
The scheme will be the subject of a presentation being recorded as part of Road Safety GB's online cycling event.
The three-week event, titled 'More cycling, safer cyclists: how can we make it safer for more people to cycle, more often?', will be aired free-to-all until 25 June.
The West Midlands Cycle Hire presentation, which is being published on Thursday 10 June, is being delivered by Emma Down, cycling and walking development officer at TfWM.
---