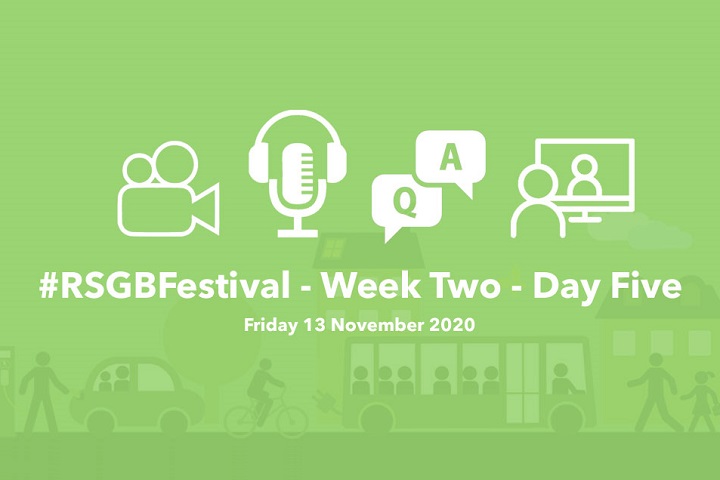 Ahead of this year's Road Safety Week, Friday's Festival of Road Safety content includes a podcast with Josh Harris, director of campaigns at Brake.
Organised by Road Safety GB, the Festival of Road Safety will see more than 40 pre-recorded and live sessions broadcast throughout November (2-27 Nov).
On the agenda today
Week two of the Festival of Road Safety culminates with a look at the impending start of Road Safety Week 2020 (16-22 Nov) – as well as an organisation which provides medical fitness to drive assessments for all ages.
At 10am, a special edition of the RSGB Talk podcast will be published, featuring Josh Harris, director of campaigns at Brake.
In the podcast Josh talks about the origins of Road Safety Week, this year's theme (speed), the impact of Covid-19 and what's happening around the country during the week.
This is followed at 2pm by a fringe presentation from Annie Wallace-Stanley, driving advisor, Driving Mobility.
Annie will outline how Driving Mobility fits into regional road safety partnerships, providing medical fitness to drive assessments for all ages.
Looking ahead to next week
Week three of the Festival gets underway with a keynote presentation from Duncan Kay, head of vehicle engineering at the DfT's International Vehicle Standards Division.
Duncan will provide an update into the Government's ongoing call for evidence into the use of Automated Lane Keeping Systems (ALKSs) – which are capable of taking control of a vehicle travelling at low speeds on a motorway.
The week's second keynote – presented by Richard Owen, CEO of Agilysis – will be published on Thursday at 10am. 
Richard will look at how Covid-19 has impacted on road safety, as well as discussing the implications going forward.
Meanwhile the week's live session takes place on Tuesday at 2pm and is titled: 'Connected & Autonomous Vehicles – what are the road safety challenges?'.
The panellists are: 
Dr Huw Davies, assistant professor, Institute for Future Transport and Cities, Coventry University

Michael Talbot, head of strategy, Zenzic (on secondment from the Centre for Connected and Autonomous Vehicles (CCAV))

Ruth Anderson MCIHT, data and digital lead, IHub Future Mobility Team, Innovation & Research, Oxfordshire County Council
A limited number of places still remain available for this session. Click here to register.
The full four-week programme is published on the Festival website. For more information contact either Edward Seaman or Nick Rawlings by email, or alternatively on 01379 650112.
---