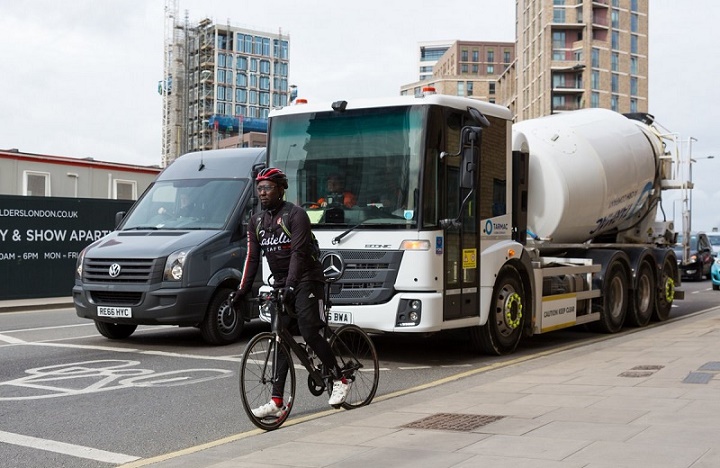 Enforcement of an initiative to protect vulnerable road users in London from the most dangerous HGVs has got underway – in a move described as a "major step" towards the Capital's Vision Zero aims.
First announced back in 2016, the Direct Vision Standard aims to tackle road danger at its source by minimising blind spots on HGVs.
Under the standard, HGVs are categorised depending on the level of a driver's direct vision from a cab – and are given a rating between 'zero-star' (lowest) and 'five-star' (highest).
All owners of HGVs over 12 tonnes now need a valid permit to operate in London. Those without a permit face a penalty charge notice (PCN) of up to £550.
HGVs rated one to five stars received their free safety permit automatically. The operators of lorries rated zero star – around half of HGVs operating in London – are required to fit safe systems to receive theirs. This includes:
cameras covering blind spots linked to a video display in the cab

an audible warning when turning left

motion sensors covering the sides of the lorry at low speeds

a prominent warning on the back of their vehicle
To date, more than 90,000 permits have been issued, with more than 3,000 to 5-star vehicles which provide the highest levels of direct vision.
At the other end of the scale, more than 30,000 dangerous zero-rated HGVs have now had safe systems fitted.
The scheme is progressive and the standards will tighten in October 2024 when the minimum star rating will become three stars.
Christina Calderato, head of transport planning for TfL, said: "We know that the Direct Vision Standard will protect all Londoners who walk and cycle by ensuring that the most dangerous vehicles on our streets have effective safety measures. 
"This will prevent needless death and injury on our roads – there will be people alive by the end of this year who wouldn't have been if we hadn't taken this bold and necessary action.
"We are immensely proud that our Direct Vision Standard – a world-first for lorry safety – will not only save lives in London, but in the UK and all over Europe as operators upgrade their entire fleets, sometimes upgrading hundreds of vehicles. 
"This vital step is core to our Vision Zero plan to eliminate deaths and serious injuries on London's roads."
---