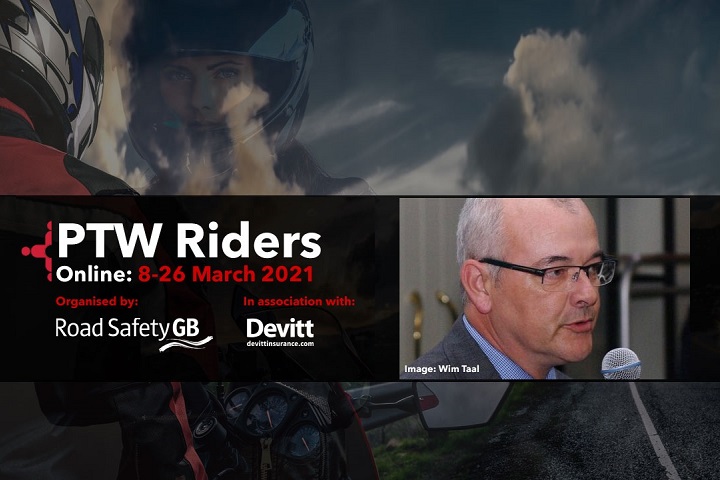 The final week of Road Safety GB's online PTW event continues with a presentation on the newly-formed National Motorcyclists Council (NMC).
The NMC was launched on Friday 5 March with a mission to "help assure a positive and sustainable future for motorcycling".
It brings together a broad spectrum of motorcycle organisations. These range from riders campaign groups, to motorcycle sport representatives, off road and green roads interests and road safety experts.
The presentation, delivered by Craig Carey-Clinch, executive director of the NMC, will be available via the PTW event website from 10am today (23 March).
Craig has been active in motorcycling public policy and road safety issues since the early 1990s. After a spell as director of public affairs with the Motorcycle Action Group (MAG), he spent 10 years with the MCIA heading its political function.
Craig became MD of Rowan Public Affairs in 2009, where he continued to represent MCIA on public policy matters and also undertook a number of different projects in the motorcycle world. 
In 2021, he ended his work for MCIA after being appointed executive director of the NMC.
Still to come later this week
The online event, titled 'PTW Riders: improving safety and reducing collisions and casualties', is sponsored by Devitt Insurance.
Tomorrow's offering is a live workshop, being delivered by Saul Jeavons, director of the Transafe Network.
Intriguingly titled 'How to hit a motorcyclist', the workshop will explore why using STATS19 data to target motorcyclists for education, training and publicity isn't particularly effective – and how MOSAIC demographic information only tells a tiny part of the story about this target audience group.
The workshop is fully subscribed – but sections may be made available via catch-up afterwards.
This is followed on Thursday by a double header of presentations, including one from Lorraine Willis (Highways England) and Tanya Fosdick (Agilysis).
Their presentation will look at 'Ridefree', a young rider project designed to help the Government look at how to deliver motorcycle training in the future.
Ridefree, developed by Agilysis and Driving Research in partnership with Highways England and with the backing of the DVSA, compared four training approaches which could be used to enhance the compulsory basic training (CBT) taken by riders.
The other presentation on Thursday is being delivered by Peter Riley, director of Airvest Ltd.
More information
For more information about the PTW Riders' online event visit the event website or contact Edward Seaman by email or on 01379 650112.
---