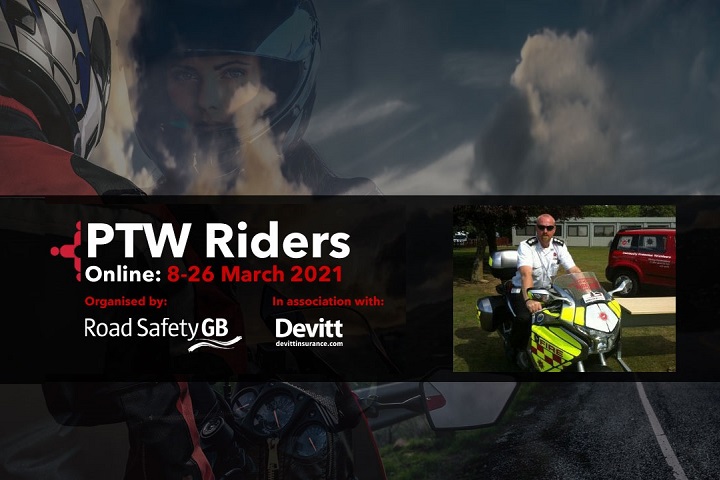 The first day of the final week of Road Safety GB's online PTW event features a presentation on the work of Fire Bike teams across the UK.
UK fire and rescue services have been engaging with motorcyclists through their Fire Bike teams for more than a decade. In total, there are currently 36 teams across the country.
Fire Bike teams promote safer riding, encourage further/advanced rider training and seek to reduce the number of motorcycling casualties through several successful initiatives that have been developed and shared nationally.
This work will be explained in today's presentation by Tony Smith, Fire Bike team leader at Hertfordshire Fire and Rescue Service – and the National Fire Chiefs Council's motorcycle safety lead.
Tony has served as a fire officer in Hertfordshire for 25 years. His keen interest in motorcycles and road safety led to him becoming a founder member of the Herts Fire Bike Team in 2011. 
Tony now leads the team and holds an IAM Masters with Distinction and Local Observer Qualification.
The presentation will be available via the event website from 10am today (22 March).
Still to come later this week
The online event, titled 'PTW Riders: improving safety and reducing collisions and casualties', is sponsored by Devitt Insurance.
Tomorrow's offering – in a late addition to the agenda – is a presentation on the newly-formed National Motorcyclists Council (NMC).
The NMC was launched on Friday 5 March with a mission to "help assure a positive and sustainable future for motorcycling".
It brings together a broad spectrum of motorcycle organisations. These range from riders campaign groups, to motorcycle sport representatives, off road and green roads interests and road safety experts.
This is followed on Thursday by a double header of presentations, including from Lorraine Willis (Highways England) and Tanya Fosdick (Agilysis).
Their presentation will look at 'Ridefree', a young rider project designed to help the Government look at how to deliver motorcycle training in the future.
Ridefree, developed by Agilysis and Driving Research in partnership with Highways England and with the backing of the DVSA, compared four training approaches which could be used to enhance the compulsory basic training (CBT) taken by riders.
The other presentation on Thursday is being delivered by Peter Riley, director of Airvest Ltd.
More information
For more information about the PTW Riders' online event visit the event website or contact Edward Seaman by email or on 01379 650112.
---