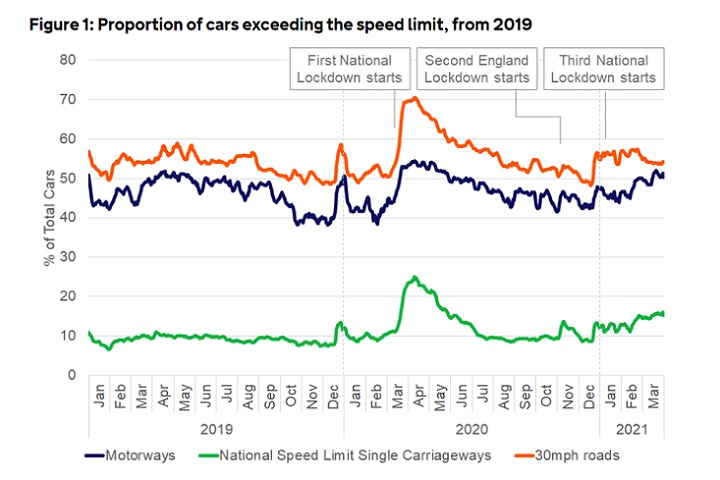 The percentage of cars exceeding the speed limit rose on all road types during the first quarter of 2021 – but remained lower than during the first national lockdown.
That's according to new Government statistics, which measure speed and compliance at sites where the road conditions are 'free flowing' – for example roads with no junctions, hills, sharp bends, speed enforcement cameras or other traffic calming measures.
The stats show that between January and March 2021 – the latest lockdown – 50% of cars exceeded the speed limit on motorways, an increase from 46% during the same period in 2020.
However, the Q1 2021 figure is lower than the 53% reported during April to June 2020 – when the first national lockdown largely took place.
The figures paint a similar picture for National Speed Limit (NSL) single carriageways, where 13% of cars exceeded the speed limit during the first quarter of 2021.
This compares to 10% in the first quarter of 2020 – and 17% between April and June 2020.
Meanwhile on 30mph roads, 56% of cars exceeded the speed limit in Q1 2020 – up from 53% a year earlier. As per the other road types, the figure was lower than during Q2 2020 – when it stood at 63%.
The Government says speed limit compliance continues to correlate with the 'exceptional changes' in road traffic caused by the Covid-19 pandemic. It adds that during periods of reduced traffic, more drivers are speeding.
January 2021 saw England enter a third national lockdown – and Scotland a second – while Wales continued its third national lockdown, which had begun in December 2020. 
These lockdowns significantly reduced daily traffic levels – by approximately 50%. However, traffic levels remained higher than those seen in April to June 2020 during the first national lockdown.
---