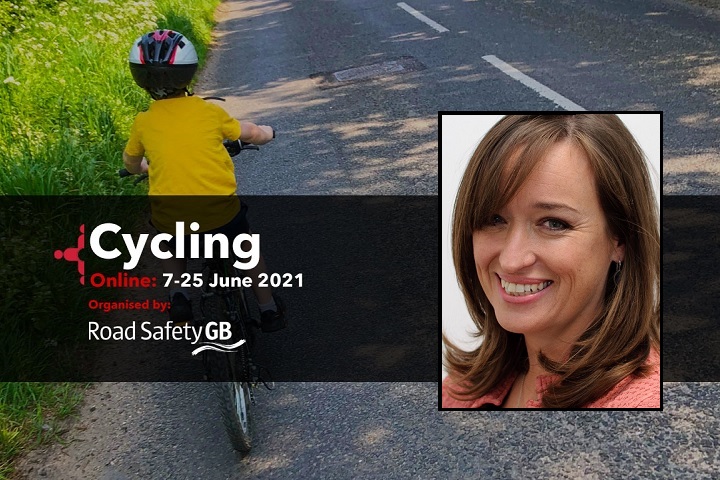 The final week of Road Safety GB's online cycling event commences with a pre-recorded presentation looking at the role of training in developing competent and confident cyclists.
The presentation has been prepared by Emily Cherry, executive director of The Bikeability Trust – the charity for Bikeability, the UK government's cycle education programme.
With the prime minister announcing his ambition to offer 'every child' and 'every adult' cycling training, this presentation shares the Trust's vision of how this can be achieved. 
It draws on the evidence of the Bikeability programme, and shares early insights from new research into special education needs and disabilities pilot work.
More widely, the presentation will also look at the role of training in developing competent and confident cyclists to help choose active travel.
It will be available via the cycling event website from 10am today (21 June).
Registration remains open for final two live events
The three-week event, titled 'More cycling, safer cyclists: how can we make it safer for more people to cycle, more often?', is being aired free-to-all until 25 June.
The programme comprises a mix of pre-recorded and live content including video presentations, a workshop and a Question Time session. All the pre-recorded content will be published on the programme page at 10am on its advertised day.
Dates, times and registration details for the live sessions are also available on the programme page.
Registration remains open for the event's second live presentation, which takes place at 14.00 on Wednesday 23 June. 
Titled A cycle-friendly Wales – transforming places in Wales through 20mph default speed limits and safe and convenient infrastructure, the presentation is being facilitated by Natalie Grohmann and Ian Bradfield from the Welsh Government. 
Click here to register to attend this session.
Registration is also open for a free Question Time session, which takes place on Thursday 24 June (11.00 – 12.00).
Panellists for the session – which will be hosted on Zoom by Nick Rawlings – are:
Fatima Ahmed, road safety manager, London Borough of Hounslow

Rachel Aldred, professor of transport, Westminster University

Michael Corden, head of training, Cycle Confident and BikeRight

David Davies, executive director, PACTS
Attendees will be able to ask questions during the session itself – or submit them in advance. Details of how to do so are available via the sign-up page.
Click here for more information about the panellists and/or to register to attend the session.
---