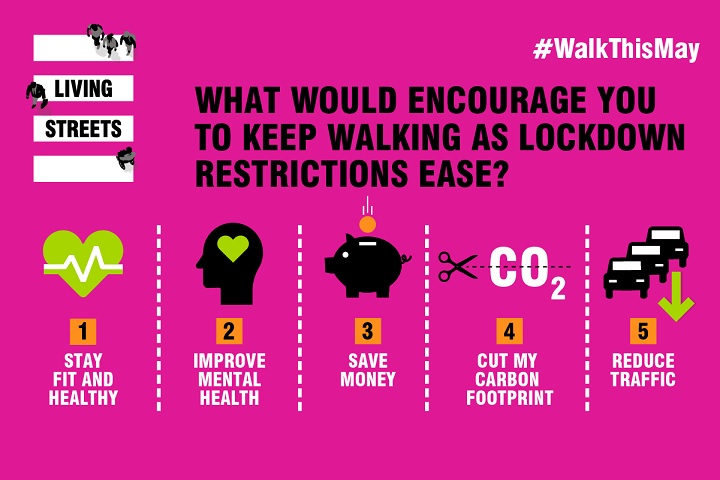 Physical and mental health benefits are among the top reasons that would encourage people to carry on walking as lockdown restrictions ease.
That's according to the findings of a new survey published by Living Streets to mark the start of National Walking Month.
Government statistics show between May and July 2020, 39% of people reported to walk more than before the outbreak of the Covid-19 pandemic.
The Living Streets survey asked Brits what they have enjoyed most about walking more often in the last year – and what would encourage them to keep walking as lockdown restrictions ease.
On the latter, health benefits came out top – with 74% of respondents saying they would continue walking to maintain their physical health and 54% to maintain their mental health. 
Respondents also recognised the environmental benefits from walking. A third (33%) hoped to reduce their carbon footprint, 27% to reduce air pollution and 22% to reduce traffic.
Mary Creagh, chief executive of Living Streets, said: "Walking is good for our minds, our bodies and our neighbourhoods and has helped us stay active and connected this past year. 
"As well as the mental and physical health benefits, we have seen the improvements to congestion and air quality when people drive less. 
"That's why we want people to #WalkThisMay. By walking the roadmap out of the pandemic, we can emerge healthier and happier."
---