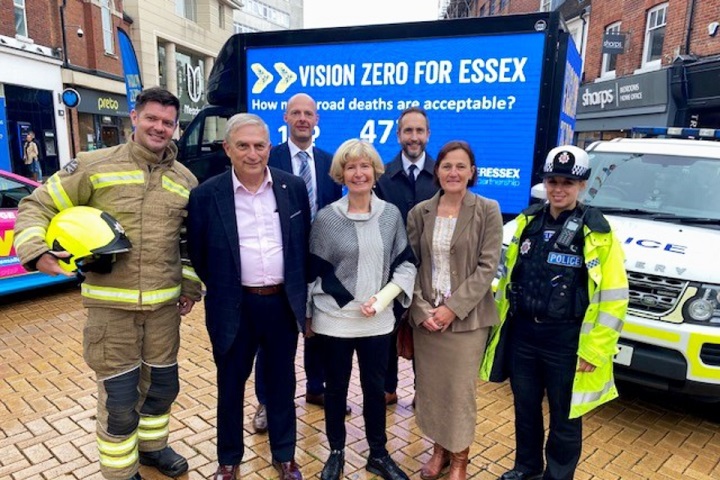 The Safer Essex Roads Partnership (SERP) has released a draft strategy, detailing how Vision Zero could be achieved in the county.
SERP launched its Vision Zero aspirations in November 2020 – with the aim of achieving zero road deaths and serious injuries by 2040.  
In addition, an interim target of reducing deaths and serious injuries by 50% between 2020 – when 42 deaths and 675 serious injuries were recorded – and 2030 was also set.
On 14 September, SERP held a pop-up event in Chelmsford, to mark the release of its draft strategy.
The strategy outlines the actions required to implement the Safe System approach in Essex, including to: 
Work with other partnerships and authorities to share data, research and knowledge

Help each partner highway authority to review its speed management strategy (how road speed limits are decided), complementing this with targeted speed enforcement to reduce collision frequency and severity

Build on the work of Community Speed Watch volunteer groups, learning from their contribution to local communities

Review the partnership's wider enforcement strategy to promote greater compliance with all traffic safety laws

Develop existing education and communications programmes on road user safety
SERP chose to launch the strategy during the Project EDWARD week of action, which aims to provide a platform to showcase some of the best work being done around the UK to promote the five pillars of the Safe System approach.
Nicola Foster, chair of SERP, said: "[This is] a big day for the partnership and the people of Essex.
"We are passionate about Vision Zero and determined to achieve it. We should not continue to accept road deaths and serious injuries as part of our everyday lives.
"If you saw us in Chelmsford you might have been asked, how many road deaths are acceptable? Some people said a few and some people simply couldn't answer. The only answer for us and the county of Essex, is zero.
"Please take the time to visit our website and see how, together, the people of Essex might achieve Vision Zero. 
"We're proud to lead but we need everyone who influences what happens on our roads to desire the outcome of no deaths or serious injuries and to believe, as we do, that it is possible."
---