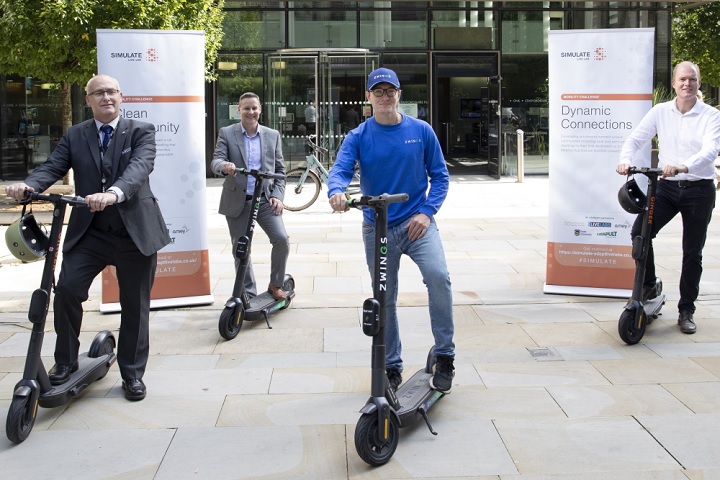 NHS workers in Stafford are being offered free electric scooter rides, following the expansion of the town's rental scheme to incorporate its local hospital.
Staffordshire County Council's e-scooter trial launched in September 2020. In Stafford itself, the scheme is operated by Ginger.
The trial has been expanded to include the town's County Hospital in partnership with the University of Hospitals North Midlands Trust (UHNM).
UHNM is the first NHS provider in the country to be part of an e-scooter trial. Staffordshire County Council says as one of the largest employers in the area, UHMM is responsible for a large proportion of traffic and congestion each day.
Statistics show across England, approximately 3.5% (9.5 billion miles) of all road travel relates to patients, visitors, staff and suppliers to the NHS.
E-scooter provider Ginger has worked with UHNM to understand its transport needs and the locations that would be best suited to house the e-scooter infrastructure. 
Ginger will be providing free rides for NHS workers until the end of March 2021 at the earliest.
Jessica Brownsword, sustainability manager at UHNM, said: "UHNM is extremely pleased to be working in partnership with Staffordshire County Council during this trial of electric scooters. 
"By participating, UHNM will demonstrate leadership in sustainable travel as we will be the first hospital to have a parking bay on site. This makes it easier for visitors to choose a healthier journey and encourages staff to choose greener and more active travel options."
Further expansion in Newcastle-under-Lyme
The rental scheme in Stafford is one of two being trialed by Staffordshire County Council.
The second, in Newcastle-under-Lyme, is being operated by Zwings.
The operator has extended the number of available parking bays to provide residents with more convenient access to the e-scooters.
Zwings says the third lockdown has shown a clear demand for essential e-scooter journeys, reporting an increase in rental use during this period.
Zwings is also offering unlimited free rides to NHS and emergency services employees until 1 March.
David Williams, Staffordshire County Council's cabinet member for highways and transport, said: "The electric scooter trial in Newcastle has been a great success and we're pleased to see its expansion to different parts of the town, providing an alternative and safe travel option. 
"The operator Zwings has been working with us and the borough council, along with NHS service providers, to identify appropriate sites for e-scooter parking bays. This is in addition to understanding the needs of communities during this time."
---