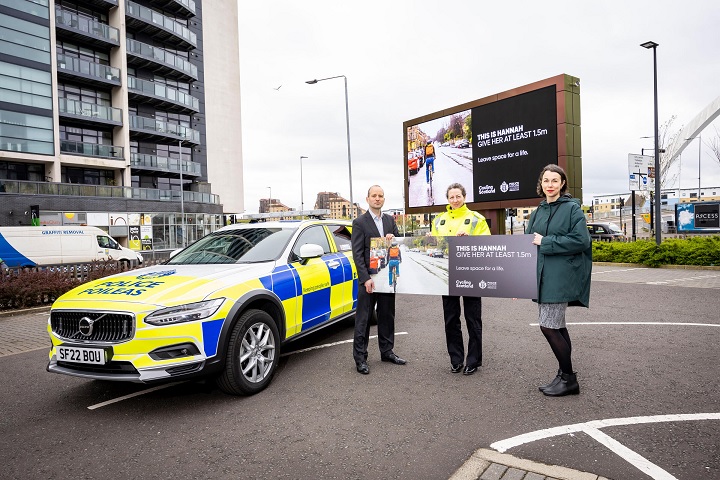 A new campaign is aiming to make roads safer for Scotland's cyclists, by raising awareness of the legal passing distance and the responsibility of drivers to safely overtake.
Supported by Police Scotland, Cycling Scotland's 'Give Cycle Space' campaign carries the tagline 'Leave Space for a Life'. 
Visuals of people cycling from a driver's viewpoint aim to humanise the person on the bike, with the television ad showing footage of the friends, family and loved ones of the person cycling. 
A dangerous overtake shows the risk that drivers take when they don't give the required passing distance stated in the Highway Code of at least 1.5 metres.
 Cycling Scotland's campaign – which runs on television, radio, online and on buses until 19 June – is funded by Transport Scotland.
Keith Irving, Cycling Scotland chief executive, said: "Every week in Scotland, at least four people cycling suffer serious, potentially life-changing injuries, usually from a crash with a vehicle. 
"To make cycling safer and support more people to travel by bike, we need a network of dedicated cycle lanes, police enforcement and education on reducing road danger.
 "Our campaign highlights that drivers need to give at least 1.5 metres of space when passing someone on a bike. Together with the police, we're raising awareness of the risks of careless driving."
A findings of a survey, published to coincide with the launch, shows that 97% of drivers agree that those who drive too closely to people cycling are putting lives at risk
 However over a third admit that they don't think of someone cycling as a person, being more focused on getting past and getting on with their journey.
Chief superintendent Hilary Sloan, head of road policing at Police Scotland, said: "Every driver has a responsibility to safely overtake cyclists and understand how their actions can impact the life of that person riding a bike.
 "As we approach the summer months, there will be more people using Scotland's roads. All road users should take care, plan their journey and be aware of cyclists who are more vulnerable."
---