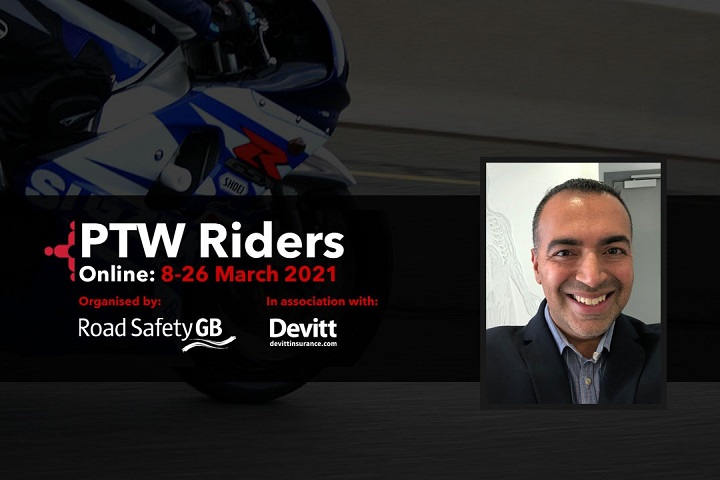 Road Safety GB's online PTW event rolls into week two with a podcast discussing how to survive a powered two wheeler collision from a NHS trauma surgeon's perspective.
The three-week event, titled 'PTW Riders: improving safety and reducing collisions and casualties', is sponsored by Devitt Insurance and got underway on 8 March.
Since then, the event website has had more than 1,500 visits from road safety professionals – and others with an interest in rider safety.
What's happening in week two?
Week two gets underway with a special edition of the RSGB Talk podcast, featuring Goldie Khera, a consultant general and trauma surgeon at Brighton and Sussex NHS Trust.
Goldie Khera has been a trauma instructor, training nurses and doctors in advanced trauma life support since 2006.
The podcast – hosted by Nick Rawlings – will be available to listen to via the PTW event website from 10am today (15 March).
Among the topics covered in the podcast are the latest developments in pre-hospital trauma management, the 'golden hour' of trauma care, and emergency trauma damage control surgery – all specifically in the setting of high velocity PTW collisions.
The first video presentation of the week will be published at 10am tomorrow (16 March) and has been prepared by Neil Greig, policy and research director, IAM RoadSmart.
Neil will present the findings of a research programme to evaluate advanced riding, which looked at attitudes to safety, riding behaviour, self-reported incident history and speed choices in a range of road scenarios.
Among the other highlights of week two is a presentation from Christopher Hodder, public affairs manager for the Fédération Internationale de Motocyclisme (FIM).
As the global advocate for motorcycling and the recognised governing body of motorcycle sport, the FIM is keen to ensure that motorcycling will be seen as the safe and sustainable choice across the world for generations to come.
As part of this, FIM has worked with various global road safety organisations to try and spread best practice for motorcycle safety across the globe.
In his presentation, Christopher will give a brief overview of that work and explain why the FIM puts so much emphasis on ensuring that vehicles users are at the centre of road safety policy.
More information
For more information about the PTW Riders' online event visit the event website or contact Edward Seaman by email or on 01379 650112.
---