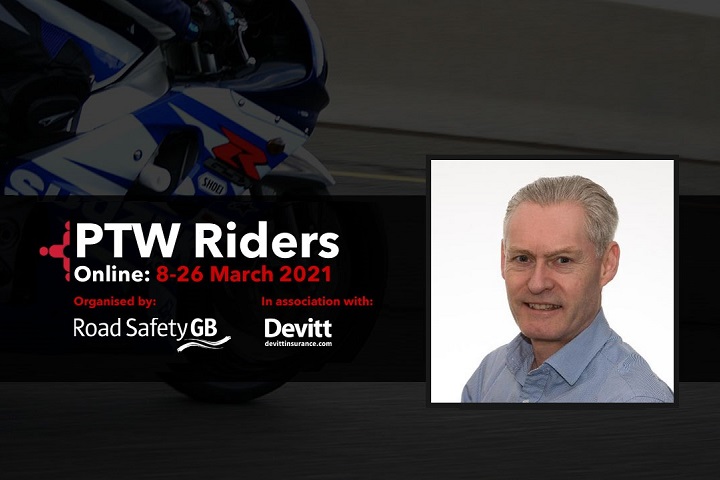 The second week of Road Safety GB's online PTW event continues with a presentation on advanced rider training – and whether it improves safety.
The presentation is being delivered by Neil Greig, policy and research director at IAM RoadSmart – and will be available to watch via the PTW event website from 10am today (16 March).
Neil joined IAM RoadSmart in 2007 and his role involves setting the strategic direction for the charity's Policy and Research Division, co-ordinating its research programme and working with the media and opinion formers across the UK.
As part of a wider research programme to evaluate advanced riding, IAM RoadSmart commissioned Agilisys to survey a comparable sample of advanced and non-advanced riders.
The report looked at attitudes to safety, riding behaviour, self reported incident history and speed choices in a range of road scenarios.
The conclusions suggest IAM RoadSmart coaching does deliver safer, more confident riders who get more enjoyment out of their motorcycling.
Still to come this week
Tomorrow's offering is a presentation from Christopher Hodder, public affairs manager for the Fédération Internationale de Motocyclisme (FIM).
As the global advocate for motorcycling and the recognised governing body of motorcycle sport, the FIM is keen to ensure that motorcycling will be seen as the safe and sustainable choice across the world for generations to come.
As part of this, FIM has worked with various global road safety organisations to try and spread best practice for motorcycle safety across the globe.
In his presentation, Christopher will give a brief overview of that work and explain why the FIM puts so much emphasis on ensuring that vehicles users are at the centre of road safety policy.
This is followed on Thursday by a presentation from Heidi Duffy MBE, facilitator of the National Young Rider Forum, and Tanya Fosdick, head of research at Agilysis.
This presentation will provide the first glimpse of the findings from a research project, funded by the Department for Transport, which started and was completed in the pandemic year.
'Understanding who our Young Riders are' is a five-part research project which investigates every aspect of young riders' lives, to gain a better insight how they feel about being a rider, what concerns them as a young road user – and to identify the best way to reach and support them as young road users of the future.
More information
For more information about the PTW Riders' online event visit the event website or contact Edward Seaman by email or on 01379 650112.
---