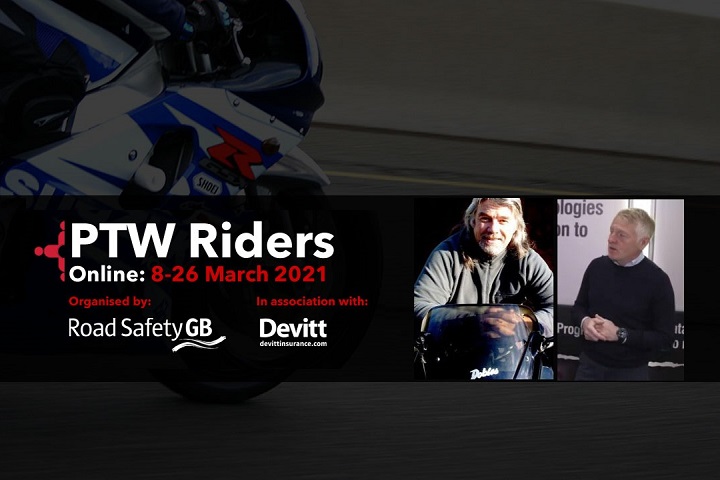 The final day of the second week of Road Safety GB's online PTW event comprised a double header of presentations.
The online event, titled 'PTW Riders: improving safety and reducing collisions and casualties', is sponsored by Devitt Insurance.
It has proved popular, with the event website receiving more than 2,250 views from road safety professionals and others with an interest in PTW safety since launch on 8 March.
Today's offering is a double header of presentations – which will be available to watch via the event website from 10am (19 March).
The first has been prepared by Tony Campbell, CEO of the Motorcycle Industry Association (MCIA), who will look at the role of PTWs during the Covid pandemic.
Meanwhile Kevin Williams, Survival Skills Rider Training, will present the 'Science Of Being Seen' (SOBS) – which aims to proactively prevent 'Sorry Mate I Didn't See You' (SMIDSY) collisions between drivers and motorcyclists.
Catch up on all the action so far
All the action from the first two weeks of the PTW event is available to watch on the event website.
Among the most popular videos to date is the Question Time session, which took place on Thursday 11 March.
The Question Time session saw lively debate and discussion on a number of topics including whether manufacturers and retailers should do more to promote rider safety, whether the CBT is 'fit for purpose' – and whether further/advanced training reduces collisions and casualties. 
More information
For more information about the PTW Riders' online event visit the event website or contact Edward Seaman by email or on 01379 650112.
---