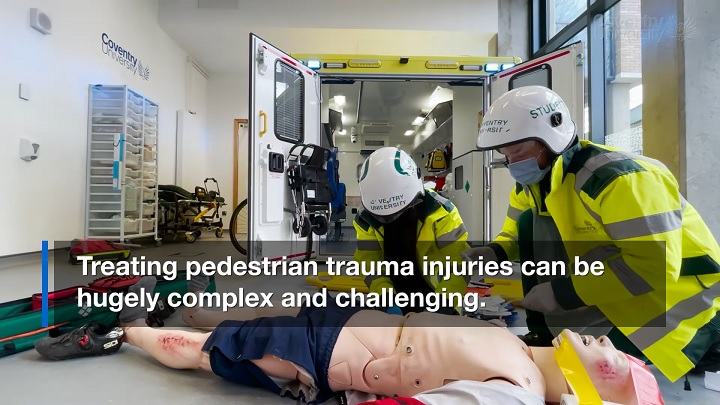 Researchers are "optimistic" that a project to improve the treatment of pedestrians who have been involved in traffic collisions will save lives.
The project is being delivered by University Hospitals Coventry and Warwickshire (UHCW) NHS Trust in conjunction with Coventry University's Centre for Future Transport and Cities, following funding from The Road Safety Trust.
At its core, the project will see the development of a Forensic Pedestrian Trauma Database (FPTD) – effectively a system that enables paramedics to gain information about victims at a much greater speed.
As for how it works, paramedics will take a photo of the vehicle involved in the collision.
A computer model will reverse engineer the collision and then work out factors including the vehicle speed and the impact on the pedestrian.
This information can then be added to the database to create a virtual CT scan of what's happening inside the victim's body, information that could be 'critical' for paramedics.
The information can also be sent to a hospital, speeding up the triage and improving the treatment upon arrival at Accident and Emergency units.
Professor Joseph Hardwicke, consultant plastic surgeon and research lead for the UHCW Major Trauma Centre, said: "This innovative approach to the assessment of pedestrian trauma victims will aim to put many lifetimes' worth of experience in the palm of the hand of the first attender. 
"In the future this can only mean better outcomes for our patients."
DfT data shows 346 pedestrians were killed in 2020 – with more than 14,000 injured.
Gary Gilkes has worked as a paramedic for the ambulance service for the last, as well as lecturing at universities across the country. 
He's attended multiple serious incidents and also works to help implement new ideas within the NHS and the ambulance service.
Gary said: "Pedestrian trauma injuries can be very emotional and human factors can slow down the process of triage, so having a way to speed up this process and minimise these human factors would undoubtedly improve patient outcomes and save lives.
"It's unquestionable that speed in terms of the speed of getting patients into hospitals and starting treatment saves lives – the quicker we can do that the better chance the patient has."
---