2019 has been another productive and exciting year for Road Safety GB – with a number of new initiatives complementing a typically busy events programme.
Where better to start a review of the past 12-months than Road Safety GB's flagship event, the National Road Safety Conference, which in 2019 took place at the Telford International Centre.
The 2019 conference (12-13 Nov) once again attracted more than 300 attendees and comprised 35 presentations, three debate/discussion sessions and five workshops – delivered by 57 speakers, facilitators and other contributors.
Among the highlights were the return of 'speed dating' – a series of five-minute presentations from road safety practitioners – and a new informal chat show style session on the closing afternoon.
The 2019 Lynda Chalker Award was also presented at the event, recognising the achievements of Bill Smith, senior engineer at Scotland TranServ.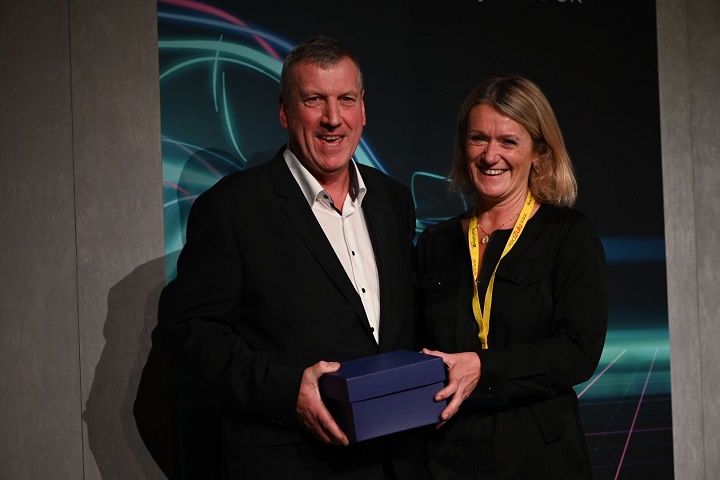 The 2020 National Road Safety Conference will take place at The Majestic hotel in Harrogate on 10-11 November – with more details to be published early in the new year.
A busy year on the events front….
National Conference was the culmination of a busy year of events for Road Safety GB, which started with the fourth Data Analysts' Conference – also known as Joining the Dots – on 5 March.
Later that month, a new powered two wheeler conference was held at at Villa Park, Birmingham.
Young Rider Focus was conceived following a survey among road safety professionals which confirmed an appetite for a conference focusing on the key issues faced by 16-25 year-old P2W riders.
The more established Young Driver Focus followed in May, once again at the prestigious RAC Club on Pall Mall, looking to address the challenge of reducing casualties caused by this most vulnerable road user group. Young Driver Focus will run again in 2020, on 19 May.
The RAC Club was also the venue for the second Older Road User Conference in September, where the opening keynote address was delivered by acclaimed presenter and broadcaster Valerie Singleton OBE.
…with more to come in 2020
In September, Road Safety GB unveiled plans to run a series of three one day conferences during 2020, working in partnership with the DfT.
Each of these conferences will focus on a specific road safety issue or vulnerable user group, with the content geared towards road safety practitioners – principally local authority road safety officers, fire & rescue and police officers.
The first conference, which will look at what can be done to reduce casualties among PTW riders, will take place on Thursday 19 March.
On 2 July the focus will be on rural roads, understanding the particular dangers they pose and determining what can be done to make them safer. 
The third conference, on 22 September, will look at cycling – how to increase participation levels while at the same time improving safety for cyclists.
More details about all three conferences – which will be held at the RAC Clubhouse in London – are available on the new RSGB Events website.
New projects focus on opposite ends of the road safety spectrum
During 2019, Road Safety GB received £200k of funding from the DfT to carry out projects to improve the safety of primary school aged children and older drivers.
In July, Road Safety GB launched a 'world-first' augmented reality teaching resource, which will be evaluated over the next two years.

The app, 'Arility', uses augmented reality – where virtual objects are layered over real world settings – to deliver engaging travel and road safety information to primary aged pupils.
With 360 degree visuals and entertaining sound effects, children interact directly with augmented reality characters to identify risks and learn to make safe choices.
The resource will test children on a range of common scenarios, including how to use a pedestrian crossing, retrieving a ball from the road and how to cross the road with a bike.
The DfT funding is also being used to develop an ADI training package, as part of a wider set of measures being funded by DfT to support older road users.
Speaking in August, Alan Kennedy, Road Safety GB executive director, said: "This training package will provide ADIs with a detailed understanding of the needs of older drivers and how best to support them.  
"The training will be delivered at locations across England and Wales, with 300 subsidised places available for ADIs.  
"Ultimately, the project will provide local authorities with access to a pool of driving instructors who will have the insight required to better support the wide range of local authority older driver schemes being delivered across the country."
Also in July, Road Safety GB launched a 'Champions Network' of data analysts, as part of its commitment to sharing best practice and improving resources for the profession.
The Champions Network is part of an ongoing Road Safety GB initiative – designed to support road safety data analysts – managed by Agilysis and delivered with support from the DfT.
The network was created following a capacity review of this specialist area and from previous work by Road Safety GB in promoting information, knowledge and skills sharing in this discipline.  
The principle behind the network is to identify regional 'champions' who will attend bi-annual national strategy meetings, and help coordinate regional meetings for road safety professionals from different sectors – with a focus on road safety evidence and analysis.
At the forefront of modern communications
2019 has been another strong year for Road Safety GB's online presence, with the Road Safety GB Twitter account reaching the 20k follower milestone in April.
Traffic to the Road Safety GB website has also increased significantly – with a 21% year-on-year rise in visitors.
Another success was the launch of a new podcast – titled RSGB Talk – which to date has eight episodes, all of which are available to listen to online.
The first podcast focused on 20mph, with host Nick Rawlings joined by Jeremy Leach, London campaign co-ordinator for 20's Plenty For Us.
Other podcasts have homed in on issues such as horse riders, seat belt usage, young drivers and older drivers.
We can exclusively reveal the podcast will return in 2020 – along with new platforms to listen and download each episode.
---