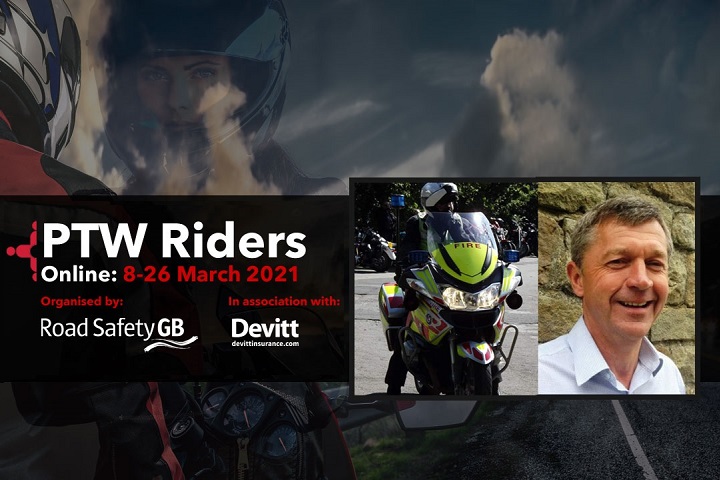 The final day of Road Safety GB's online PTW event comprises another double header of presentations – including a look at how one road safety partnership has worked with YouTubers to reach young riders.
With Covid ending many of the usual engagement routes with young riders, the South Yorkshire Safer Roads Partnership decided to embrace modern technology and venture into the world of YouTube.
For the last ten months, they have been working with local Vloggers, Mech'It Better, to produce a series of short basic maintenance videos specifically aimed at new young riders. 
The presentation, prepared by John Furniss, young rider and driver officer, discusses the 'ups and downs' of the ongoing project, while showing the love for 125s.
John is currently on secondment to the South Yorkshire Safer Roads Partnership from South Yorkshire Fire & Rescue.
His main role is to engage with the high priority groups of young riders and drivers, to reduce the number of road collisions across the four boroughs of Sheffield, Rotherham, Barnsley and Doncaster.
The second presentation is being delivered by Peter Riley, director of Airvest Ltd.
Peter's presentation is titled 'An Industry which keeps doing the same things' and looks at why airbags play such an important part in reducing motorcycle KSIs.
Both presentations will be available to watch via the event website from 10am today (26 March).
A message of thanks from the organisers
The online event, titled 'PTW Riders: improving safety and reducing collisions and casualties', is sponsored by Devitt Insurance and got underway on 8 March.
Since then, more than 20 sessions have taken place, including pre-recorded videos, podcasts, a workshop and a Question Time session.
Despite the event ending, all of these will remain available to watch on the event website for the foreseeable future.
The event has proved to be popular, with its website receiving nearly 4,000 views from road safety professionals and others with an interest in rider safety.
Edward Seaman, online PTW event organising committee, said: "The three weeks have gone in a flash – but fear not, all content from the event will remain available to watch for the foreseeable future.
"First of all, I'd like to pay tribute to everyone who has helped shape such a fantastic agenda – including our sponsors, Devitt Insurance.
"But most importantly, I'd like to thank the road safety professionals – and others with an interest in rider safety – for joining in and watching the content. I hope, above all, you've found it useful."
---