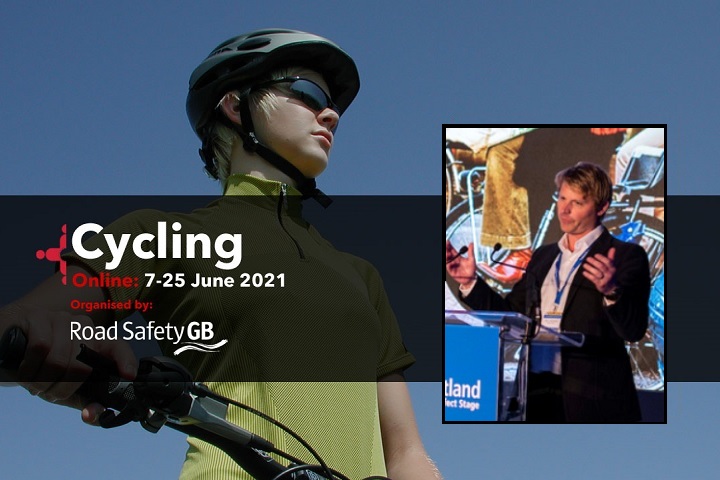 The virtual stage is set for Road Safety GB's online cycle safety event – which gets underway on Monday (7 June).
The three-week event, titled 'More cycling, safer cyclists: how can we make it safer for more people to cycle, more often?', will be aired free-to-all until 25 June.
The programme comprises a mix of pre-recorded and live content including video presentations, a workshop and a Question Time session. All the pre-recorded content will be published on the programme page at 10am on its advertised day.
The event will open with a pre-recorded presentation from Nick Chamberlin, policy manager, British Cycling.
In his role at British Cycling, Nick supports the organisation with government and external affairs, with a particular focus on active travel and the built environment.
Nick's presentation is titled: Roads should work for everyone – it is the time to give our streets to our children.
Other organisations providing pre-recorded presentations across the three weeks include the Department for Transport (DfT), the Road Safety Trust, the Bikeability Trust, Transport for West Midlands and the Staffordshire Safer Roads Partnership.
Meanwhile, there are a number of live sessions taking place, for which registration is required (free of charge).
Thursday 17 June (11am)
Cycling for All – live presentation
Facilitated by Fatima Ahmed, Road Safety Manager, London Borough of Hounslow
Click here for more information
Click here to register
Wednesday 23 June (2pm)
A cycle-friendly Wales – transforming places in Wales through 20mph default speed limits and safe and convenient infrastructure – live presentation
Facilitated by Natalie Grohmann (head of active travel policy) and Ian Bradfield (principal policy lead for roads), Welsh Government
Click here for more information
Click here to register
Thursday 24 June (11am – 12pm)
Question Time – live discussion session
Panellists: Fatima Ahmed, Rachel Aldred, Michael Corden & David Davies.
Click here for more information
Click here to register
A workshop is also taking place on Wednesday 9 June – titled The Emergency Active Travel Fund: Examples and Lessons Learned – but this is already fully subscribed. Organisers hope to make a recording of the session available to watch at a later date.
Click here to receive regular email alerts in the run up to and during the event.
---