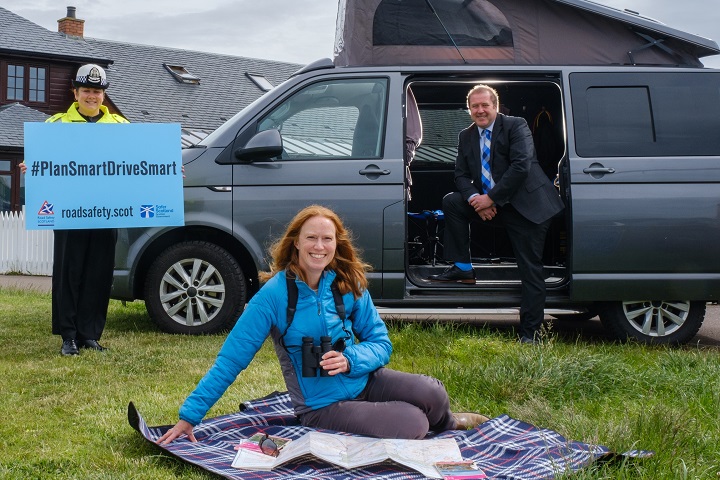 A new campaign is reminding UK drivers to plan ahead, take plenty of rest stops and prepare for busy roads before embarking on their staycation in Scotland this summer.
With foreign travel remaining uncertain, more people are planning staycation holidays and day trips instead. VisitScotland typically sees around 14 million trips to Scotland by UK residents every year, with 64% bringing their own car.
The Scottish Government and Road Safety Scotland campaign encourages drivers who are planning a trip in Scotland to be patient as the roads get busier with holiday traffic, and prepare for the unexpected on rural roads. 
It also highlights that Scotland's many country and single track roads may require new and different driving skills, particularly for those with less experience of driving in rural areas.
Graeme Dey, minister for transport, said: "We know that drivers are keen to get to their destination but it's really important they plan ahead before setting off on their staycation. 
"Take plenty of rest stops to combat fatigue and be prepared for roads you may not be familiar with. 
"Through this campaign, we're providing drivers with practical tips and good advice to help them plan ahead and stay safe on our roads this summer."
Chief supt Louise Blakelock, Police Scotland, said: "Understandably this year, as a result of the continued uncertainty surrounding COVID restrictions, many people will look to holiday throughout Scotland and elsewhere within the UK in lieu of a foreign holiday.
"This will inevitably result in our roads being far busier than previous summers with greater numbers of cars, motorcycles, caravans and motorhomes travelling across the country and many motorists will be on roads they are unfamiliar with. 
"It is therefore essential that road users are considerate and courteous to each other, drive or ride responsibly to the road conditions and road class they are travelling on.   
"Road users must also be mindful of their impact on local communities and park in a safe and considerate manner, when enjoying Scotland's countryside."
---