Several speakers at a recent conference agreed that 'far too many companies don't do enough to help their van drivers avoid collisions'.
The conference, hosted by National Highways on 22 June at the impressive Mercedes Benz World facility on the site of the former Brooklands race track, focused on the topic of light commercial vehicle (LCV) safety.
In total there were 15 presentations, all of which were recorded and are now available to view on the conference website.
Opening the conference, Jeremy Phillips, head of road user safety at National Highways, reminded delegates that human error is the key reason behind 77% of fatal collisions involving all vehicle types on the Strategic Road Network (SRN). He went on to say that the solution to collisions and injury severity is a much wider issue – including road design, vehicle safety, travel at safe speeds and post collision care.
Jeremy explained that in 2020, 96% of the SRN achieved a minimum 3-star rating by IRAP, and that in the same year the SRN 'performed quite well' when compared with the rest of the network.
Next up was Mark Cartwright, head of commercial vehicle incident prevention at National Highways, who stressed the need to 'start thinking outside the box' to further reduce LCV casualties, adding that 'vehicle operators are part of the solution'.
He went on to stress that 'vans are much more dangerous than trucks' in terms of collisions and casualties, and that there is often a 'very different attitude between truck drivers and van drivers'.
Mark explained that as far as National Highways is concerned, 'Plan A is to stop people crashing, while Plan B is to keep them alive if they do crash. For this reason, there is 'lots of focus on post-crash support'.
He also spoke about the 'power or procurement', whereby 'corporate buyers can greatly influence the behaviours of their suppliers'.
Simon Turner then introduced Driving for Better Business (DfBB), a free to access programme designed to help fleet operators manage their road risk.
Simon also introduced the new Van Driver Toolkit, also available FOC, which covers 35 safety-related themes in multiple formats.
In a video address, HRH Prince Michael of Kent spoke about 'the huge growth in the number of LCVs on the roads, too many of which are involved in collisions', before going on to say that 'far too many companies don't do enough to help their drivers avoid collisions'.
Deirdre Sinnott McFeat, from the Health & Safety Authority of Ireland, pointed out that around 15% of Europe's road deaths involve a van, before asking: "Do you blame the van driver or do you look at the bigger picture?"
Deidre said that 'van drivers are killing more other road users than any other vehicle drivers', but attributed this to 'lack of management control'.
She went on to say: "Van drivers have a helluva lot to put up with, mostly not of their own making."
Duncan Buchanan, from the Road Haulage Association, said of the 4.5m vans in the UK, just 1.5m of are registered to companies. This means 3m are registered to individuals operating in an 'Uber-like capacity' – which poses a challenge for DfBB and other safety initiatives.
Duncan said commercial drivers operate in high stress environments, and 'Uberisation is a real threat to everyone's road safety'. Longer term, RHA would like to see a system introduced for LCV drivers, similar to CPC for HGV drivers.
Talking about gig economy drivers, Nicola Jaynes, from the Health & Safety Executive, stressed that 'employers are responsible for their behaviours'.
She also made a plea for fleet operators not to use vehicle monitoring as a stick to beat drivers with – but rather to show them 'how they can improve things'.
Phil Breen said the DVSA's Earned Recognition scheme frees up DVSA resource to 'concentrate on the cowboys' – while at the same time acknowledging that Earned Recognition 'needs to do more with van operators.'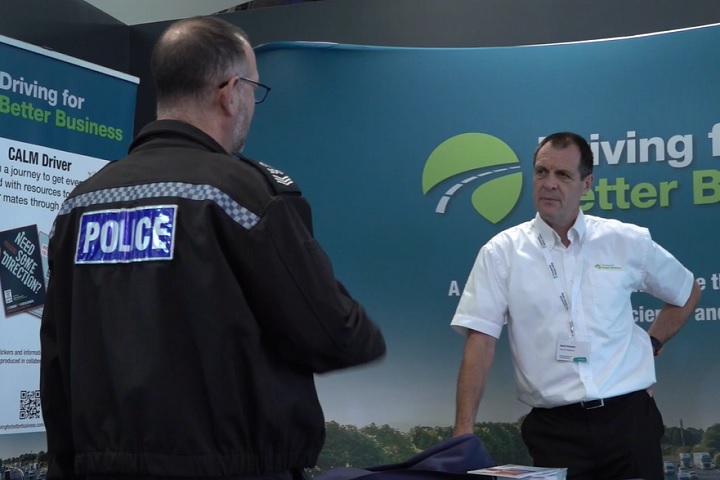 Driver welfare
Andrew Brown, from the Campaign Against Living Miserably (CALM), said suicide is the biggest killer of men under 45yrs, which equates to 125 people every week.
He described CALM as 'a charity like no other, irreverent, defiant and unafraid – here to get things done, make a real difference and save lives.'
Sleep expert Dr Iuliana Hartescu, from Loughborough University, said a disproportionately high number of fatigue related collisions involve commercial drivers – adding that 86% of commercial drivers say they drive when sleepy, and this translates into increased accident risk.
Iuliana and colleagues at Loughborough are currently working on a sleep improvement programme which recognises sleep-disrupting factors specific to commercial drivers. It is being designed in collaboration with commercial drivers and will be delivered via a web/phone app.
On the same topic, Marcus de Guingand from the Third Pillar of Health, said sleep deprivation affects every aspect of human health, safety, performance and resilience.
He said the recommended amount of sleep is 7-9 hrs per night, and estimated that fatigue accounts for around 20% of fatal collisions
To counter this, for commercial drivers he recommended a programme of education and training specific to sleep and fatigue, coupled with the use of 'light therapy' and 'napping'.
Matthew Avery from Thatcham Research switched the focus from drivers to vehicles, asking 'what can vehicles do to help prevent collisions?'.
Matthew introduced the world's first commercial van safety rating programme, launched by Euro NCAP in 2020.
He said 'van manufacturers are listening' and that the programme is 'creating a market for safety – now purchasers need to start looking'.
In 2022, the Fiat Ducato became the scheme's first Platinum rated vehicle, and by 2024 the Euro NCAP programme will require safety equipment to be fitted as standard, not an optional extra.
Paul Aldridge, from fleet operator WJ Group, outlined his company's vision to 'create safe sustainable journeys for everyone'.
"We make people and communities our priority," he said, adding that "reducing work-related road risk delivers social value for us and our communities."
Dr Andrew Kemp from VUE, explained that telematics and CCTV have 'become much smaller in size, less intrusive.'
In his experience, he said 'no one cares about van drivers'.
Andy explained that telematics is 'popular at Board level, but not with drivers.' Telematics, he said is 'key for getting cheaper insurance', and while it 'can give bad news, more often provides good news.'
Closing the conference, Richard Peak from Nextbase UK, said dash cam footage can help reduce insurance claims by up to 30%, and that the technology can deliver behavioural benefits.
"Suddenly we are accountable for our actions," he said, adding that "improving standards of driving is to everyone's benefit."
---