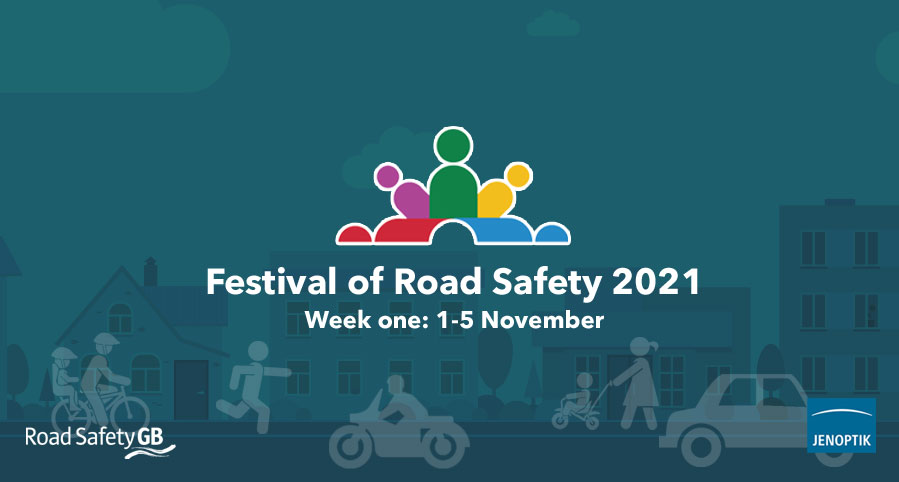 With more than 45 live sessions now confirmed, the 2021 Festival of Road Safety gets underway on Monday 1 November and will run across the next four weeks.
The Festival programme comprises a mix of live and pre-recorded keynote and fringe presentations, podcasts, workshops and webinars. All of the content will be delivered online and will be available free to view, by all.
Participating organisations include Road Safety GB, RAC Foundation, Road Safety Support, TRL, Agilysis, PACTS, Road Safety Scotland and Transport Scotland, National Fire Chiefs Council, Road Safety Trust, Road Safety Foundation, IAM RoadSmart, The Bikeability Trust, iRAP, RoSPA, National Motorcyclists Council, Motorcycle Action Group, London Road Safety Council, BHS, MCIA, FORS and ETSC.
Click here to receive daily alerts throughout the Festival.
Nick Rawlings, from the Festival organising committee, said: "We are thrilled by the level of interest there is in participating in the Festival, both from road safety stakeholder organisations and individual road safety professionals.
"Nothing can quite match getting together in person at the National Road Safety Conference, but nevertheless we hope and believe the 2021 Festival will provide a vast array of interesting and useful presentations and other sessions, which will benefit road safety professionals both here in the UK and further afield."
The week one programme comprises two keynote presentations, one podcast and seven fringe presentations.
Monday 1 November
The Festival will get underway at 10.00 with a keynote presentation delivered by Michael McDonnell, director of Road Safety Scotland. Titled 'Developing Safe Road Users Through Lifelong Learning', Michael's pesentation will explain why, fundamental to the Scottish philosophy, is the belief that road safety skills have to be nurtured from the very beginning.
This will be followed at 14.00 by a fringe presentation by Tony Crook, lead officer for road safety, National Fire Chiefs Council (NFCC). This presentation will provide an update on the work of the NFCC's Road Safety Group.
Tuesday 2 November
Day two opens at 10.00 with a podcast hosted by Nick Rawlings and featuring guest Vicky Harvey, vice-chair of Road Safety GB. During the podcast Vicky outlines her vision for a more consistent standard and approach to delivery of road safety ETP across the UK, and the role that she believes Road Safety GB could play in achieving this.
Then, in a fringe presentation at 14.00, David Gribble, chief executive officer at the Constable Care Foundation in Australia, will explain how augmented reality can be deployed as a cost effective and engaging education tool for vulnerable road users.
Wednesday 3 November
Wednesday sees the Festival's first live keynote presentation (10.00), delivered by Richard Owen, CEO of Agilysis, who will look at post-pandemic road safety, and how practitioners can understand what's changed on the roads – in terms of how people are using the roads, road user behaviour and casualty risk. As this is a live presentation, attendees are required to pre-register in order to attend.
The afternoon session comprises a fringe presentation (14.00) by Louise Palomino and Tanya Qadir from the Road Safety Trust, who will outline the Trust's grant funding process and showcase some of the completed and ongoing projects it has funded.
Thursday 4 November
Thursday sees two fringe presentations focusing on older drivers.
First, at 10.00 Sam Chapman, co-founder and director of The Floow, will look at fitness to drive and older driver safety assessment using new technologies. Sam will outline current UK trials of new technologies designed to automate driver monitoring and then discuss how these tools can aid older drivers, assessors, clinicians, carers and family members.
This will be followed by a double header by Rebecca Ashton and Neil Greig from IAM RoadSmart, who will explain how older drivers see themselves as 'fit, healthy and determined to keep driving'. The presentation is based on new research from IAM RoadSmart which reveals that motorists over the age of 60 years intend to drive for as long as they are safe to do so, and that the average age they would consider giving up their licence is 82 years.
Friday 5 November
Week one concludes with two fringe presentations.
At 10.00, Benjamin Smith from The Bikeability Trust. Benjamin's will present Cycle Savvy Driving, a trial project delivered by The Bikeability Trust on behalf of the DfT, which is designed to address the current lack of cycle awareness learning resources for ADIs and learner drivers.
The final presentation of the week will feature John and Denise Billington from Room 9 Media, who will be looking at how to communicate with Year 7 in a style which is both contemporary and relevant to their own experience.
Weeks 2, 3 and 4
The programmes for the Festival weeks 2, 3 and 4 are curently under development and can be viewed here – by clicking on the links on the right hand side. All of these sessions are subject to final confirmation in terms of dates and timings.
The 2021 Festival is being organised by Road Safety GB and sponsored by Jenoptik. For more information about the Festival please contact either Nick Rawlings or Edward Seaman by email or on 01379 650112.
---