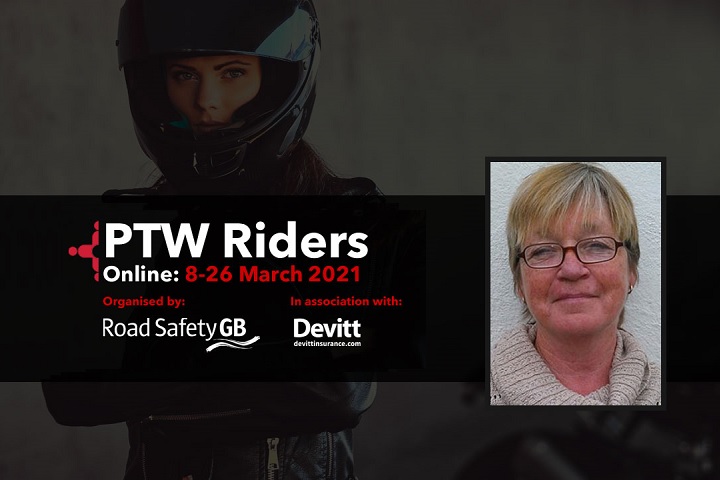 Road Safety GB's online PTW event moves into its second day – with a presentation looking at the dynamics of crashes involving PTW riders.
The presentation – published on the PTW event website at 10am today (Tues 9 March) – has been prepared by Elaine Hardy PhD, an esteemed motorcycle researcher.
Elaine was part of a team which studied the dynamics of crashes between PTWs, road infrastructure, animals or other causes. This included a global survey, taken by 1,578 motorcyclists from 30 countries.
The most revealing finding – as outlined in the presentation – was that the mechanism of the crash (the trajectory on impact) was far more influential in determining the type and severity of injuries, rather than speed or style of the motorcycle being ridden at the time of the collision.
Catch-up on the content so far
The three-week event, titled 'PTW Riders: improving safety and reducing collisions and casualties', is sponsored by Devitt Insurance and got underway on 8 March.
The programme comprises 20 pre-recorded presentations and podcasts which are being published at 10am each working day over the next three weeks – as well as a live workshop and a Question Time session.
All of the content is available free-of-charge, but registration is required for the two live events. Click here to view the full agenda.
The event kicked off yesterday with a double header, including a presentation from Alex Stedmon (founder of Open Road Simulation).
Professor Stedmon unveiled the findings of a unique research programme in which a series of innovative road markings were trialled in Scotland in order to 'prime' rider behaviour on approach to demanding bends.
Having watched the presentation, Keith Wheeler, Buckinghamshire Fire & Rescue Service's road safety officer, said: "Nice to see a genuinely innovative and useful initiative aimed at keeping riders safe."
At the same time, a new edition of the RSGB Talk podcast discussing Motorcycle Roadcraft – the Police Rider's Handbook – was also released.
Hosted by Nick Rawlings, the podcast features Lisa Daniels and Dan Whittle from the Stationary Office (TSO); and inspector Colin Reid from Police Scotland.
During the podcast, Nick Rawlings asks whether further/advanced training makes for safer riders and reduces collisions and casualties. All participants agreed there is a lack of evidence on this point, and that there is a need for research on this topic.
More information
For more information about the PTW Riders' online event visit the event website or contact Edward Seaman by email or on 01379 650112.
---