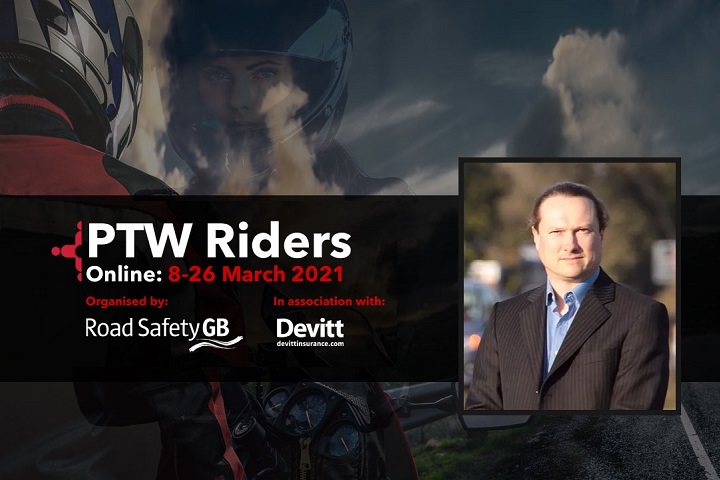 The final week of Road Safety GB's online PTW event reaches its half-way point with a workshop delivered by Saul Jeavons, director of the Transafe Network.
Intriguingly titled 'How to hit a motorcyclist', the workshop will explore why using STATS19 data to target motorcyclists for education, training and publicity isn't particularly effective – and how MOSAIC demographic information only tells a tiny part of the story about this target audience group.
The workshop is fully subscribed – but sections may be made available via catch-up afterwards.
Still to come this week
The online event, titled 'PTW Riders: improving safety and reducing collisions and casualties', is sponsored by Devitt Insurance.
Thursday's offering is a double header of presentations, the first of which is from Lorraine Willis (Highways England) and Tanya Fosdick (Agilysis).
Their presentation will look at 'Ridefree', a young rider project designed to help the Government look at how to deliver motorcycle training in the future.
Ridefree, developed by Agilysis and Driving Research in partnership with Highways England and with the backing of the DVSA, compared four training approaches which could be used to enhance the compulsory basic training (CBT) taken by riders.
The other presentation on Thursday is being delivered by Peter Riley, director of Airvest Ltd.
Peter's presentation is titled 'An Industry which keeps doing the same things' and looks at why airbags play such an important part in reducing motorcycle KSIs.
The event closes on Friday (26 March) with another double header of presentations from:
John Furniss, young rider and driver officer, South Yorkshire Safer Roads Partnership/SY Fire & Rescue

Mike Abbott MBA, Advanced Rider Coaching
Catch up on all the action so far
All the action from the PTW event is available to watch on the event website.
Among the most popular videos to date are week one's Question Time session – which took place on Thursday 11 March.
The Question Time session saw lively debate and discussion on a number of topics including whether manufacturers and retailers should do more to promote rider safety, whether the CBT is 'fit for purpose' – and whether further/advanced training reduces collisions and casualties.
More information
For more information about the PTW Riders' online event visit the event website or contact Edward Seaman by email or on 01379 650112.
---