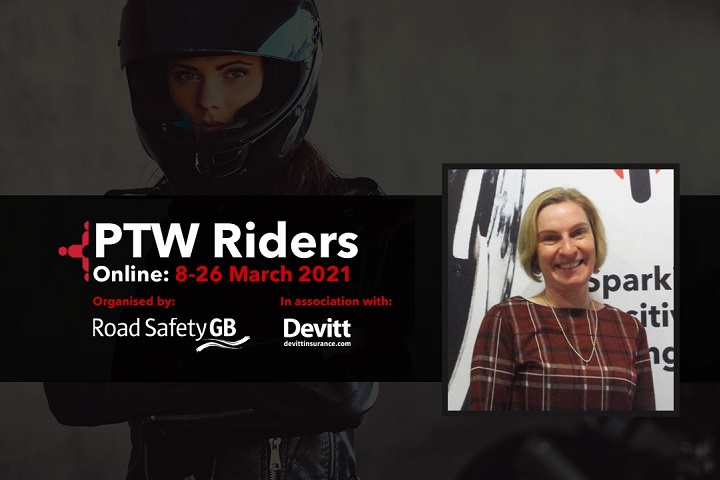 The first week of Road Safety GB's online PTW event draws to a close with a presentation outlining a campaign which used social media to reach young riders.
The three-week event, titled 'PTW Riders: improving safety and reducing collisions and casualties', is sponsored by Devitt Insurance and got underway on 8 March.
Since then, nearly 1,500 road safety professionals – and others with an interest in rider safety – have visited the event website.
Friday's presentation – which will be published on the PTW event website at 10am today (Friday 12 March) – is being delivered by Debbie Huckle, vice chair of 2Wheels London.
Debbie will talk about the #ridebetter campaign – which features the 'Angry Al' character.
The social media campaign was developed by 2Wheels London in an effort to resonate with young riders in the Capital – and to positively influence their decision making.
The campaign, launched in August 2019, features eight videos designed to encourage riders to use the roads in a manner that gives them the best chance of staying safe and avoid being involved in a collision.
'Angry Al' acts as the 'devil on your shoulder', using strong language to encourage bad behaviours.
Question Time session now available on catch up
Day four of the online PTW event featured a live Question Time session and the launch of a new social media campaign highlighting the most common causes of collisions involving motorcyclists.
The 3D Know the Dangers campaign, devised by the East Midlands-based Shiny Side Up Partnership (SSUP), comprises seven short films – and one longer film – which are being shared on the SSUP social media platforms.
The presentation on the campaign, led by Heidy Duffy MBE, SSUP facilitator, is available to watch via the event website.
The Question Time session saw lively debate and discussion on a number of topics including whether manufacturers and retailers should do more to promote rider safety, whether the CBT is 'fit for purpose' – and whether further/advanced training reduces collisions and casualties. The hour-long session is also available to watch on the link above.
Other highlights from week one include a presentation from Alex Stedmon (founder of Open Road Simulation).
Professor Stedmon unveiled the findings of a unique research programme in which a series of innovative road markings were trialled in Scotland in order to 'prime' rider behaviour on approach to demanding bends.
More information
For more information about the PTW Riders' online event visit the event website or contact Edward Seaman by email or on 01379 650112.
---